Student hit by car in accident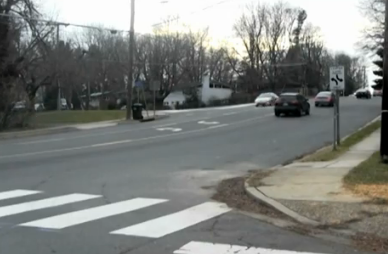 Hang on for a minute...we're trying to find some more stories you might like.
On Nov. 21, sophomore Emylee Lonczak was at the crosswalk leading from Westmoreland to the school driveway, walking with her twin brother, when she was hit by a car. Lonczak managed to retain her balance, and avoided falling. Though hurt, she did not allow the incident to deter her from making it to the school.
"I was hurt decently bad," Lonczak said. "After I walked all the way to my chemistry class with my brother I went to the clinic where an ambulance was called."
Lonczak was then taken to the hospital where she was given some painkillers, and her arm was put in a cast. Later that day, she insisted on returning to school, even though she was not really supposed to do so. The injury did end up impacting her Thanksgiving break, which began the next day.
"Yeah, I had to have my brothers do everything for me just about," Lonczak said.
The individual who struck her has reportedly been caught, and Lonczak will have to appear in court.
Senior Evan Jarvis, who was three or four cars away from the one that struck Lonczak, witnessed the scene.
"Well a car came round the corner pretty fast and she got hit," Jarvis said. "I don't think she was knocked down. So I didn't pay much attention to it."
Jarvis said that, although the incident would later be termed a "hit-and-run" in a school-wide email, he was not particularly alarmed at the time.
"I was surprised but it didn't seem like something serious that needed my attention," Jarvis said. "I thought it was blown way out of proportion."
Principal Ellen Reilly, who sent the e-mail, also sent one to staff members later that day, updatng them on Lonczak's status, informing them Officer Jones had apprehended the person responsible, and making note of the problems the intersection has posed for years.
"Many parents and concerned community members have been sending emails about the intersection at Westmoreland, where the student was hit," Reilly said in the email. "From my understanding, it has been an ongoing problem for years.  Along with the community we will try to take measures to make the intersection safe for our students."
Reilly had been notified of the accident when the student visited the clinic and reported that she had been hurt.
"It just panics you," Reilly said. "Especially when you hear 'hit-and-run' or something like that. You know, you're like, 'holy cow.'"
Reilly quickly learned that Lonczak would be fine. She did not go with Lonczak to the hospital, however, as Lonczak's mother arrived at the school in time to go with her daughter.
Reilly is grateful for the fact that those parents who have communicated their concern about the incident have also expressed ideas to help prevent something like this happening again.
"What I do like, is the parents who are writing in or talking or coming up, are coming with suggestions," Reilly said. "They're not just coming in and saying, you know, 'what happened', and blaming everybody.  It's just more of, you know, I think you should do this, this, and this…So actually, it's been very helpful."
The fact that the incident took place on a state road, and not school property, limits what the administration can do.
Fairfax County Supervisor John Foust is currently taking several measures to make the area safer, including seeing the installation of a pedestrian-activated Rapid Flash Beacon on both sides of the crosswalk, and asking the Fairfax County Police Department to consider placing a crossing guard there.
"The only thing that we're going to do as a school—the only thing that we can do—is we're gonna send out a keep-in-touch to remind everybody of safe driving, to be patient in the morning and not cut everybody off," Reilly said. "So basically we need patience in the morning. That's the only thing I can offer right now."