Perceived Islamophobic comments prompt boycott of VHSL State Debate tournament
Nine of the 12 members of the Fairfax County School Board waded into controversy on April 28 when they sent a signed letter urging the Virginia High School League to avoid using Liberty University as a venue for events following a boycott by a number of local debaters of the VHSL State Debate Championship held at Liberty in April.
Those boycotting the state tournament included teams from Lake Braddock, Hayfield and South Lakes along with McLean juniors Jessica Boyer and Fatima Shahbaz. Shahbaz and Boyer decided to boycott the tournament in response to comments made by Liberty president Jerry Falwell Jr. after the San Bernardino shootings in December. Falwell told students at a convocation address that he has "always thought that if more good people had concealed-carry permits, then we could end those Muslims before they walked in."
Shahbaz said the boycott helped create a discussion about Islamophobia that includes Falwell himself.
"By the pure fact of us boycotting, the fact that we've seen responses by Jerry Falwell himself, we've seen responses by professors at Liberty, people from Liberty [and] people from around the world who don't agree with us has shown that we have created a discussion about this, whether it's in favor of what we're doing or against us," Shahbaz said
Boyer said she hopes the dialogue about Islamophobia will continue.
"What would be ideal is if this dialogue that we've helped to create and support could be continued, so comments like this are never made by such a public figure who has so much influence over a large group of university students," Boyer said. "If we could make those [types of] comments not something that's said at a university's convocation, in front of tens of thousands of kids, that would be an amazing impact."  
On May 5, the three school board members who did not sign the April 28 letter released their own statement, in which they say they are "deeply disturbed by the manner in which the letter and its contents originated."
Jeanette Hough, school board member at large, was one of the three members who did not sign the letter. She said its issuance was not in line with school board policy.
"It is law that all Board actions happen in public, and as your representative I will always strive for full transparency that allows for public input and comment," Hough said in an email. "When a Board that represents a million people decides to sign a letter in support of putting pressure on an organization, I believe a public conversation is best practice.  More importantly, that is the due process our constituents deserve."
Falwell responded to the boycott in a commentary in The Washington Post, in which he argues his comments were taken out of context.
"It was clear to all in attendance that…I was only referring to the Muslim terrorists who attacked innocents in San Bernardino and in Paris, France. I was in no way referring to the many good and honorable Muslims who do not come into public spaces armed to kill innocents," Falwell said in the commentary.
Shahbaz said she views such disagreement as part of the needed discourse, and a validation that she made the right decision to boycott.
"The bottom line is that you can't deny that this boycott has had a major impact, if you see Jerry Falwell writing an article about this, if you see Falwell tweeted against Ryan McElveen for the stance FCPS has taken, you've seen this response to both sides," Shahbaz said. "I think in essence that's what debate it, it's having intellectual conversations and responses from both sides of the coin."
Last week, the VHSL announced that a number of state tournaments will be moving away from Liberty. Ken Tilley, executive director of the VHSL, said the move is unrelated to the boycott, and has been under consideration since last summer.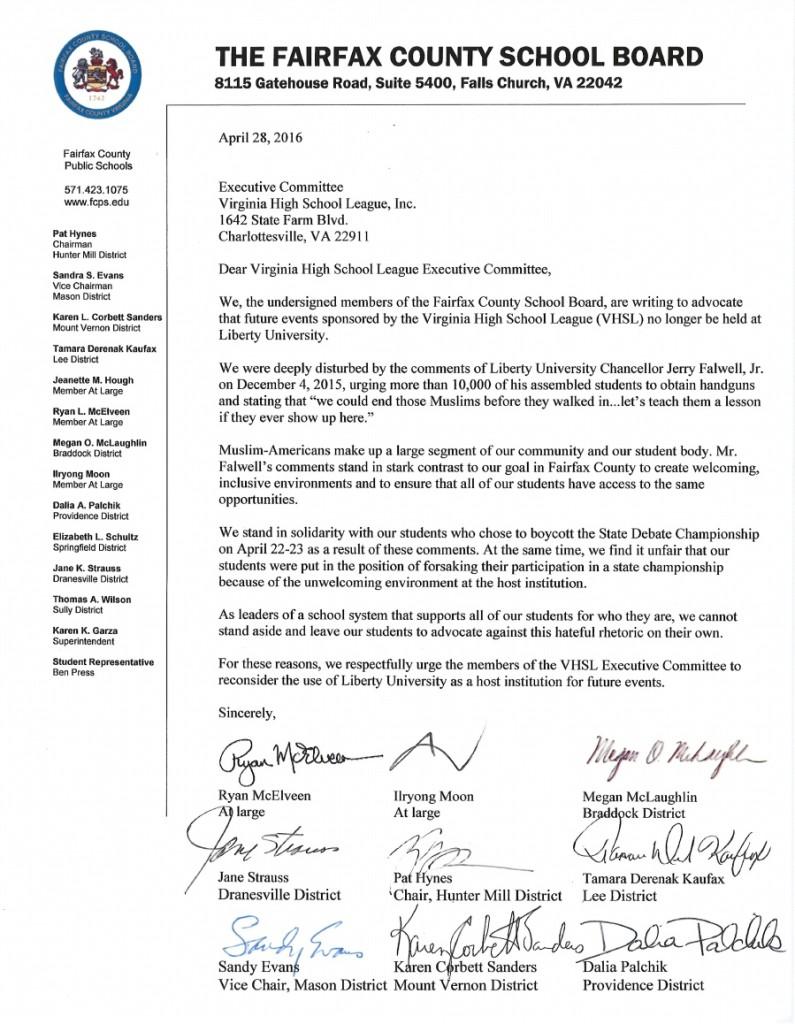 Your donation supports the McLean High School's independent, award-winning news publication.