Little Women: a comeback to remember
TheatreMcLean makes heartwarming and entertaining return with Little Women
The March sisters finally took center stage at McLean High School, where audiences enjoyed TheatreMcLean's long-awaited rendition of Little Women which lasted until Nov. 21. Though there were some points to improve upon, the production as a whole was top-tier and highly enjoyable.
The story follows sisters Meg, Beth, Jo and Amy March as they navigate both childhood and womanhood in the mid-1800s. It focuses primarily on Jo, an aspiring writer and the third eldest March sister. A feminist icon, Jo manages to reject a prejudiced society, become a published author, and even dabble in romance over the course of the two-hour play.
Complete with extravagant costumes and impressive high notes, the play featured students of various grade levels. Brooke Hawken, an understudy for the sassy and sophisticated Aunt March, was just a freshman.
"It was so fun [to play Aunt March]," Hawken said. "It was my first time being in a musical here at McLean, so I really had a lot of fun."
Miranda Simpson, the understudy for Meg in the Saturday afternoon show, was definitely a standout with her stunning high notes and spectacular control. She and her love interest Mr. Brooks captured their characters' awkward yet adorable romance perfectly.
And the star of the other performances? By far senior Kylee Majkowski, who played main character Jo March. Her vocal skills were astounding, from the perfect intonation to extensive vibrato. When the music began while she was on stage, audiences knew that Majkowski's complex choral abilities would invigorate the scene.
Her graceful movements and stylistic infusion of subtle humor, too, added depth to parts of the play that would otherwise be nondescript. She encapsulated Jo March in her entirety, traversing love, death and other essential themes of humanity author Louisa May Alcott intended her character to experience—in other words, Majkowski stole the show. Hands-down.
The masks cast members were required to wear didn't deter them from showcasing their incredible acting. The students in every role demonstrated an ability to captivate their audience, especially with notable efforts to put on an outstanding show. Some of the show's highlights include the comedic "I'd be Delighted" scene, where the March sisters come together in wonderful harmony to showcase their vocal talent and endearing chemistry.
The singing was overall impressive, though it sometimes fell flat—both figuratively and literally. That's understandable; asking every actor to sing, act and dance flawlessly on their first performance back in the school building would be excessively demanding.
There were also technical issues when the background tracks overpowered the singers' voices, and vice versa. Still, the lighting was very well done and provided the show with some playful color.
The play featured costumes that captured the audience with subtle charm. Many of the sisters' dresses were reminiscent of the 1800s, with some modern infusion, and only added to the visual appeal the lights provided.
And, like always, TheatreMcLean's set was engaging, though this one was more simplistic than previous plays that set the bar high. (Think back to "You Can't Take It With You," McLean's pre-pandemic production that had an absolutely stellar and intricate set.) Transitions between the scenes were also well-controlled and subtle.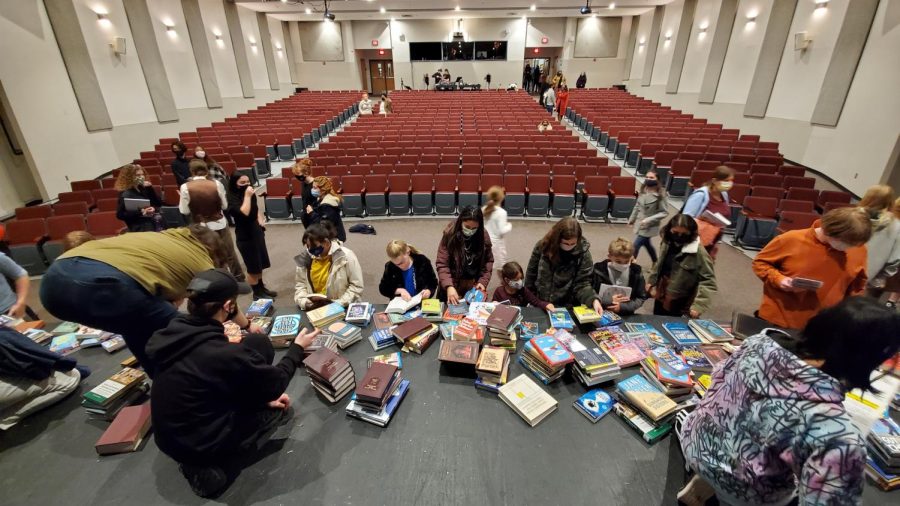 The play's true highlight definitely lied in its story. It was wonderful to see an almost entirely female-led cast perform a story so near and dear to women everywhere. The actors capture the March sisters' sense of unity and sisterhood beautifully on stage.
With her tenacity and ambition, Jo March is an empowering and inspirational character. She proves that it is truly possible to have it all: success, aspiration, love and family.
Though it would have been great to see a little bit more choreography, the musical numbers were very enjoyable, and it is clear that plenty of time and effort went into making the play a success.
"We would stay after school every day for about three hours, from about 3:15 to 6:15," Hawken said. "We've been practicing since early September."
After months of draining rehearsals, seeing the whole show come together was especially rewarding for both the cast and the audience.
"Everyone has done so much, and [they were all] really awesome," said Kirsten Tierney, who plays the March sisters' lovable mother. "I'm astounded by each and every one of them."
Despite its minute flaws, Little Women was a must-see for families in the McLean community. Between the casts' engaging chemistry and the story's charming message, the show was a delight to audiences everywhere.
Additional reporting by Polina Zubarev
View Comments (2)
Your donation supports the McLean High School's independent, award-winning news publication.