Spotify wraps up the decade
New feature lets users see their top music picks of the 2010s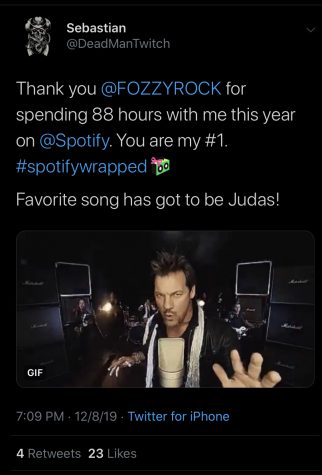 Spotify came out with a feature that shows users their most listened to songs and artists of 2019. Along with stats about one's artist and song of the year Spotify had a new feature that showcased what a user had been listening to throughout a decade since 2020 is just around the corner.
The news of Spotify's wrap swarmed social media and even trended on twitter with tweets from thousands of people, sharing the number of hours they listened to their favorite artist in 2019. One Twitter user shared that he had listened to 88 hours of Fozzy Rock. 
Spotify was the only music streaming platform that had this feature but the decision to create statistics had mixed responses. 
"It's nice to know which songs and artists made my year and it's something to look forward to at the end of the year," junior Sheena Anishraj said.
Although many people agree, others felt music should not be statistically measured.
"I honestly think most people don't really care. I kind of really dislike Spotify wrapped though because it tries to give a statistic value to someone's experience," junior Mary Kate Ganley said. 
The additional feature that recounted users' artist of the decade was surprising to numerous users.
Junior Tallisen Scott was one among various Spotify users.
"My artist of the decade was Taylor Swift but I don't like her anymore so she didn't really 'make' my decade," Scott said.
But she did agree with her artist of 2019, Comethazine.
Overall, Spotify's wrap helps users to take a stroll down memory lane and many are excited for what music they will experience in 2020.