Tracking down Savage's new release
21 Savage's sophomore studio album receives mixed reviews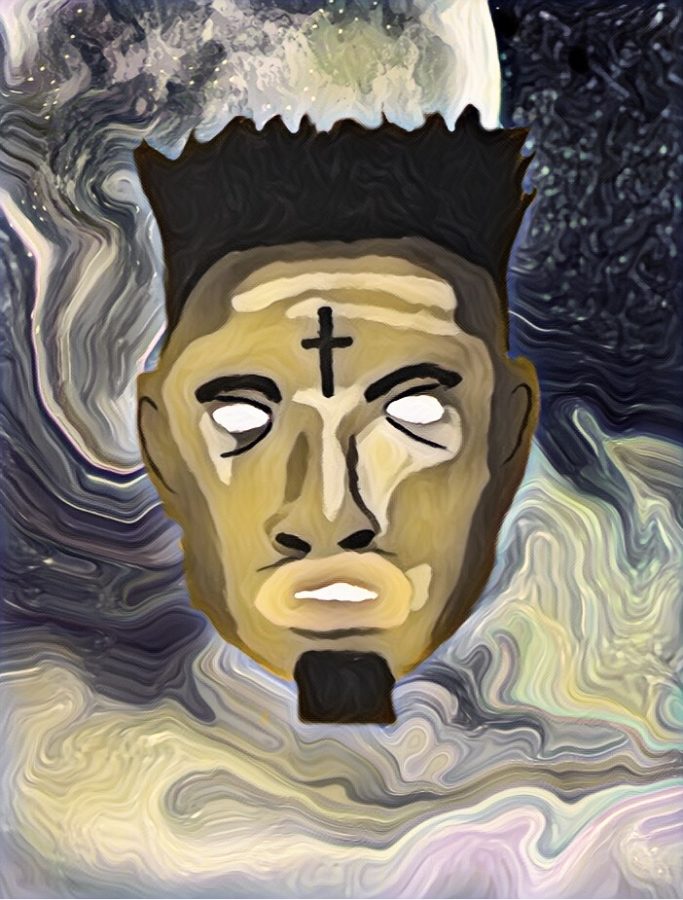 Released on Dec. 21, i am > i was is rapper 21 Savage's second studio album and sixth work since The Slaughter Tape in 2015. Combining soulful melodies with complex lyrics, the album reveals a side of Savage never seen before.
"[I am > i was] is definitely a change from 21's previous albums," senior Nikhil Jivan said. "There's a lot less talk about gang [violence] and a lot more about his family and his work."
Savage's album has received mixed reviews from students. While some appreciate his displayed capacity for emotion, others criticize his work. This album was Savage's only personal release in the year of 2018.
"I thought the album was kind of underwhelming," senior Ellie Schultz said. "There was nothing really exciting about it. Also, I was expecting better because it took him so long to come out with it."
Played and reviewed second by second, the following is a write-up of Savage's work on i am > i was, providing an honest description of every song as well as a earlier 21 track comparable to each.
"A lot" feat. J. Cole
This track opens with a classic spoken introduction from 21 Savage, the man himself. He repeats his "yeah" and "ah" pattern that fans know so well, but there's a stark difference between this track and that of previous albums from the get-go. Rather than employing a heavy beat or 808, Savage uses a soulful sample from East of Underground. This difference is emphasized by Savage's lyrics on the track. Again, from the beginning, Savage sounds regretful and somber instead of comical and violent. Savage gradually transitions into his old stuff, but at least this time he has a heart, albeit cold. Later, J. Cole appears in an unlisted feature. Cole explains that his feature was unexpected, yet he couldn't resist the temptation to write when he saw Savage and his kids in the studio together. In a tone similar to Savage's, he shows disdain for rappers that "fake streams" and essentially cheat in the business, even reciting a prayer for Tekashi, who was arrested for racketeering and firearms in November. Cole questions the state of Tekashi, picturing him "inside a cell on a cot/Reflecting on how he made it to the top/Wondering if it was worth it or not." When Cole's verse ends, the track returns to Savage's chorus, providing a more contrite perspective regarding the Atlanta rapper's rise to fame in the industry.
Rating: A. This track gives us "a lot" to think about.
If you like this: "Thug Life" from Issa Album
"Break da law"
Upon the first beat, "break da law" contradicts "a lot" quite interestingly. The beat is jarring and heavy, quite unlike the soulful melody heard before. The lyrics mirror this theme, reflecting on Savage's gangster side. What Savage describes complements the song's title rather nicely, detailing gun violence, "choppa" violence and violence in general. 21 Savage does not go on dates, nor does he show much respect in any way, shape or form, but at least he remains humorous: "My choppa can hit all of y'all/Your brother, your goldfish and dog." After this is established, Savage switches up the beat with a technical, extraterrestrial kind of sound heard many times before. Savage's tone is consistent in its hostile confidence despite this change, a staple of the rapper's style. As the track comes to a close, the beat fades out and a number of voices are heard, while Savage's own voice is changed by a sort of telephonic effect. This ending parallels an ominous vibe first heard on Savage's Without Warning, which was released on Halloween in 2017.
Rating: B. Savage can "break da law," but he didn't break many standards with this track.
If you like this: "Don't Play" by No Plug feat. 21 Savage from Culinary Arts 101
"A&t" feat. Yung Miami
The introduction to "a&t" is another technical melody, yet this one is somewhat of a cacophony in all honesty. The lyrical introduction to the track is nothing better, with a repetitive set of lines sung poorly by Yung Miami of City Girls. She repeats a rather provocative phrase to a tune comparable to viral dance songs such as "Ayy Ladies" by Travis Porter and Tyga. Once Savage's verse begins, he speaks extensively about the female form, giving a shout out to Fashion Nova, a brand recently popularized by the work of social media models. Savage goes on to rhapsodize about a certain woman, all the while flaunting his wealth and fortune. Later features by Yung Miami seem to match these statements in describing the desire for a rich man: "All depending how you spend it, you can stay/When it's 'bout that money, youngin', don't discriminate." This theme remains constant throughout the song. "A&t" seems to cater to popularity and virality.
Rating: F. I want to call AT&T and tell them to cancel my phone service after hearing "a&t."
If you like this: Savage has never released a song comparable to "a&t."
"Out for the night" and "out for the night – part 2" feat. Travis Scott
While the sample is relatively short-lived, the introduction to this track is a soulful kind of guitar melody, transitioning gracefully into a hard beat traced by Savage's liquid flow. He raps about money, power and women, mirroring lyrics heard before. At the bridge, however, the track turns into something reminiscent of Drake's "Nice For What" released earlier in 2018, idolizing a certain lady's efforts to take control of her life: "Yeah, you workin' hard/And I see you… And you never need a man to defend you." As a result, "out for the night" provides a pleasing parallel to both "break da law" and "a&t," which portrayed a less respectful image of women. Like "a lot," this track shows another side of Savage regarding his facility for companionship. Nonetheless, released on Dec. 24, Travis Scott's feature on "out for the night – part 2" reveals a thematic transition about two thirds of the way through the track. Scott's lyrics shift from talk of a certain woman to jabber concerning his popularity after his "Wish You Were Here" tour in 2018.
Rating: B. This track certainly makes me want to go "out for the night," but it's nothing too special.
If you like this: "FaceTime" from Issa Album
"Gun smoke"
The introduction of "gun smoke" is an extraterrestrial kind of sample, which seems to be a recurring theme throughout i am > i was. Nevertheless, this sample is nothing like the catastrophe on "a&t." Savage places a few classic ad-libs soon after, imitating his older style rather than the fresh, soulful take heard before. The beat drops seamlessly and reveals a strong bass, complementing the hard lyrics quite nicely. Savage goes on to describe the epitome of his musical background and trap lyrics: "'Savage, why you always rapping about guns though?'/'Cause I fell in love with that gun smoke." As this subject is central to the song, it's no surprise that the remainder of the track echoes such a rough style. This trend continues until the song's end when a blaring horn sounds and the track fades out.
Rating: B. Lyrically, this track isn't much more than "gun smoke" and mirrors.
If you like this song: "Money Convo" from Issa Album
"1.5" feat. Offset
The introduction to "1.5" contains some sort of wind instrument, a staple that seems to have evolved from Future's infamous "Mask Off" in 2017. This tune, however, is more hostile and jarring, which is not entirely unexpected coming from Savage. From the get-go, it's clear that this track is similar to the previous with respect to the subject matter, speaking about wealth and fame. Savage's lyrics confirm this prediction: "Pockets on Cheez-Its, heavy on the cheddar/Run off with your money, Savage a.k.a. Jerry Heller." Savage compares his pockets to a popular cheese snack, using cheese as a metaphor for money, while referencing former N.W.A producer Jerry Heller, who was believed to have stolen money from group members in the '80s. Later, Savage teams up with Offset in an unlisted feature on the track. Offset, who first collaborated with Savage in 2015 on The Slaughter Tape, goes on to rap about his wealth and his women, scattering Migos-style ad libs throughout the verse. "1.5" concludes with the fading sound of the same wind instrument.
Rating: C. I'd give this track a "1.5" out of five.
If you like this song: "Run Up the Racks" from Without Warning
"All my friends" feat. Post Malone
It deserves mentioning that this review is written by an individual who absolutely despised "Rockstar" in 2017 for its attempt at popular appeal as well as Savage's disappointingly brief verse. Unfortunately, as "all my friends" begins, it's apparent that such frustration also applies to this track, featuring Post Malone. This sounds like every other Malone song and it may as well have appeared on his beerbongs & bentleys album. Nonetheless, given the popularity of "Rockstar," which was a similar pairing between Savage and Malone, there is no doubt that this track will be a hit. Despite the general lack of enthusiasm for "all my friends," the track is a welcome transition from songs like "Rockstar" concerning its lyrical content. Both Malone and Savage spend their time reflecting on the complexities of wealth and friendship, arriving at the conclusion that fame complicates loyalty. Savage writes, "Hard to tell the real from fake/'Cause nowadays, they got masks on/Who gon' be around when the fame and the cash gone?" While the message is somewhat solid, this track remains unexciting until its end when Malone's annoying (yet award-winning) voice recites the final chorus.
Rating: C. "All my friends" love Post Malone and I seriously can't understand it.
If you like this song: "Rockstar" by Post Malone feat. 21 Savage from beerbongs & bentleys. That's right.
"Can't leave without it" feat. Gunna and Lil Baby
"Can't leave without it" begins with the sample of a piano tune, yet the melody becomes laced with ominous sounds of a wind instrument as the rapping starts. It's no surprise that Gunna and Lil Baby, a classic duo, have unlisted features on this song, as the style mirrors that of the pair quite nicely. Gunna's smooth voice initiates the vocals on the track, reciting the chorus and leading into Savage's first verse. The lyrics on this track concentrate on the rappers' lives before fame, citing the violence and hostility experienced before entering their respective careers. Of course, the rappers scatter lyrics about certain women and foreign cars throughout their verses, yet the track retains its more ominous identity until the end. It's undeniable that this track will become incredibly popular in the future, as the smooth tune is nearly irresistible and incredibly catchy. "Can't leave without it" is sure to make any listener feel invincible.
Rating: 10/10. I do not leave my house in the morning without listening to this track. I literally "can't leave without it."
If you like this song: "My Choppa Hate N****s" from Without Warning
"Asmr"
Savage begins "asmr" on an expected note, speaking through an introduction regarding "4L" (see review of "4L") as well as his endless loyalty to close friends and family. The background track is more fluid than that of previous songs on the album, a sound rather pleasing to the ears. Savage's first verse tackles the hostility of gang culture, flaunting the rapper's history with violence. Later, his flow speeds up for the pre-chorus, providing a smooth transition into what has become a signature component of Savage's style─the whisper chorus. This whisper chorus, which was popularized by Savage's feature on Metro Boomin's "Don't Come Out The House" in November, makes quite the impact in "asmr." Juxtaposing such a violent subject with a soft tone, Savage made a fantastic decision with the chorus on this song. This effect is especially enchanting when paired with a unique background track and a tough 808. Until the end, Savage continues his talk of gang violence, warning those who try to mess with him or his crew.
Rating: 8/10. Savage's "asmr" is more satisfying than homemade slime any day.
If you like this song: "Don't Come Out The House" by Metro Boomin feat. 21 Savage from Not All Heroes Wear Capes
"Ball w/o you"
The introduction to "ball w/o you" features a piano melody that is somehow both somber and uplifting at the same time. Savage begins his verse after a couple of classic ad libs, but the subject of the lyrics is nothing like his usual talk of 12-car garages and gang violence. Rather, Savage speaks directly to a certain ex-girlfriend, claiming that she'll never find a man like him again. While the lyrics are recited with Savage's traditional cocky, deadpan delivery, a tinge of sadness can be heard, especially within the chorus. Savage raps, "I would have went to war with the world on your call… Now I gotta ball without you." Moreover, the lyrics note an important theme echoed within other tracks on the album, exploring the distinction between love and loyalty. Savage shows lyrical growth throughout the track, expressing disdain for the woman in question while simultaneously admitting guilt. He even transitions into an auto-tuned head voice during the bridge, something unheard of before the release of i am > i was. The 21 Savage heard on "ball w/o you" is nearly unrecognizable in comparison to tracks like "asmr" or "gun smoke," yet the song is difficult to forget and unexpectedly profound.
Rating: 10/10. Since Savage has to "ball w/o you" now, do you think he would ball with me?
If you like this song: "Special" from Issa Album
"Good day" feat. ScHoolboy Q and Project Pat
A dissonant introductory sample by DJ Paul and Lord Infamous sets the tone for the remainder of "good day," the 11th song on i am > i was. While hostility and violence are common themes throughout both current and past 21 Savage tracks, this is the fifth song on the album containing almost identical lyrics concerning guns and gangs. As Savage's gangster identity is central to his character, such a redundancy is expected, yet the combination of repetitive lyrics and an unpleasant, jarring beat is simply too much. Savage goes on about violence and provocative themes within his verse, followed by similar lyrics on features by ScHoolboy Q and Project Pat, with the exception of some lines regarding vehicle theft. Despite i am > i was being Savage's second studio album, "good day" is a decidedly less successful version of tracks heard on The Slaughter Tape, Savage's first mixtape in 2015.
Rating: 4/10. "Good day" made my day worse.
If you like this song: "Gang" from The Slaughter Tape
"Pad lock"
Upon the opening of Savage's verse, which begins almost immediately, it's clear that the subject of "pad lock" mirrors the same theme of gang culture heard many times before on i am > i was. As the verse goes on, however, Savage delves into the truth behind his gangster image, breaking the surface level standard of blood and guns. Savage claims that his involvement in the streets was for the sole support of his family, and thus it's become a part of his identity. He goes on to further discuss the adversity faced in his earlier life, expanding upon his relatively cold exterior. Savage relates his difficult childhood to his lacking capacity for emotion, asserting that his heart has a padlock. While this track does tackle topics quite similar to those discussed over and over again on i am > i was, let alone his earlier music, "pad lock" provides a more profound perspective on Savage's background of brutality.
Rating: 8/10. It almost sounds like Savage has released the "pad lock" for this track.
If you like this song: "Ocean Drive" from Savage Mode
"Monster" feat. Childish Gambino
This track begins with the edited sample of a piano melody, followed soon after by what sounds like a children's choir. The children sing briefly about the externalities of fame: "Power/The money and the fame make a monster." Later, Childish Gambino starts his verse, touching on a number of complex subjects such as the perfidy and ruthlessness of the music industry. Although Gambino is a widely successful rapper, he is also a comedian, actor, producer, director and more, otherwise known as Donald Glover. Gambino does not rely on music merely for the salary, which is reflected by his lyrics on this track: "If you rappin' for money, you silly/This s*** ain't a milli'/This s*** is a hundred/The industry savage and most of you average." Savage goes on to complement these sentiments within his verse, yet the message is slightly different. Given music is Savage's primary occupation beyond gang involvement, he claims the money and the fame turned him to an "addict." Namely, being disadvantaged in his youth, an excess of wealth only fueled the desire for more, hence the title of "monster." Still, the fact that Savage recognizes his fault shows growth. His transition from poverty to wealth is captivating: "Teachers told me I wouldn't be nothin', but I went far… All the pain and all the struggle made me a superstar."
Rating: 8/10. Savage and Gambino are showing energy like they drank a "monster."
If you like this song: "Numb" from Issa Album
"Letter 2 my momma"
Based on the title alone, there is a clear disconnect between "letter 2 my momma" and songs like "gun smoke" or "break da law." Before hitting play, listeners have no concept of what to expect from this track on i am > i was. The introduction to "letter 2 my momma" is the sample of a woman's voice performing a beautiful riff, gracefully transitioning into an uplifting beat. As Savage's verse begins, it's evident that the track is exactly what it sounds like─a hypothetical letter to his mother. Savage shows an immense amount of appreciation for his mother, Heather Abraham-Joseph, throughout the lyrics, which are comically interrupted by nothing other than Savage's staple ad libs ("straight up," "on God" and "21"). Despite a challenging life at home as a single mother, Savage explains that his mother always provided for her 11 children, showing up at every school meeting and buying "freezy cups" with her loose change. This track juxtaposes Savage's gangster identity with a softer character never heard before the release of i am > i was. The message is surprisingly sweet and frankly unforgettable.
Rating: 10/10. I'll be printing these lyrics on my Mother's Day card, my next "letter 2 my momma."
If you like this song: "Famous" from Issa Album
"4L" feat. Young Nudy
As the final song on i am > i was, the subject of "4L" is recognizable based on the title. "4L" refers to Savage's gang of friends, family and fans, a crew shared with Young Nudy, who happens to be the featured artist in addition to being Savage's actual cousin. Savage wastes no time in the introduction of the song, mumbling a couple of words regarding his gangster identity on a western, cowboy-esque background track. Understandably, this theme is consistent throughout the song. Savage disses members of the music industry who use gang culture as a popularity scheme, making up "imaginary 'hoods" to promote their image. His delivery is deadpan and classic, creating a fluid flow that transitions sharply for the chorus. Despite a number of vulgar lyrics, Savage's pairing with his cousin is somewhat touching once Nudy's verse begins, and the knowledge of their challenging backgrounds makes the duo even stronger. The track is riddled with comedic references and witty jabs, being a perfect finale for Savage's sophomore studio album.
Rating: 10/10. Savage can show all the heart he wants, but he's still 21 "4L."
If you like this song: "Bad Guy" from Savage Mode