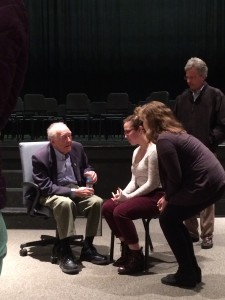 Holocaust survivor and World War II/Korean War veteran Charles Stein spoke to a packed auditorium of McLean students during 5th period on Friday, Feb. 21. The 95-year-old Stein captivated his audience by telling his tale, including how he escaped the Nazis, immigrated to the US, and served in the military during D-Day and the Korean War.
Stein was invited to speak to the class of 2016 to help them with their studies on the Holocaust. All sophomore English classes at McLean read Elie Wiesel's memoir, Night, in which Wiesel shares his story of survival during the Holocaust.
While this ties in with the sophomore English curriculum, all students who attended the assembly gained something from Stein's story of survival.
"He was very intelligent and persistent in trying to leave Europe, and I was surprised he fought for the US in WWII, he was very inspiring," junior Claudia Reutemann said.
For Stein, being able to tell his unique story is something he is grateful for and hopes to pass onto future generations.
"Because we are the last ones [Holocaust survivors] who can tell this story, and each one of us has a different story, it is important for us to share them because very soon there will be no one left to tell this story," Stein said.
Stein said he knows that the current generation of high school students may be the last generation to hear these stories of survival firsthand. Stein views his job as one of high importance because soon "everyone is going to be reading stories that people who didn't experience the Holocaust wrote."