McLean's cultural clubs end the year
Cultural clubs saw increased participation and ended year strong
As the year comes to a close, McLean's cultural clubs have been hosting final events, from playing games of jeopardy to preparing bake sales.
Japanese Cultural Club
While most are familiar with anime or sushi, many might not be familiar with Japan's three writing systems or the nation's history. Formed just last school year, the Japanese Cultural Club aims to increase knowledge about Japanese language and culture.
"Our events help students at McLean realize that we are not an anime club and instead focus more on culture and language," said junior Aika Yamakazi, Vice President of the Japanese Cultural Club.
The club utilizes fun ways, such as Japanese festival games, to teach its members a different aspect of Japanese culture at each meeting.
"We've hosted meetings that focus on different aspects of Japanese culture. Some meetings focus on language, others on fairy tales, and so on," Yamazaki said. "We've also collaborated with clubs such as AAA for an Olympic themed meeting where we not only learned about the origin of Olympics but also got to compete in small competitions"
Earlier this year, the Japanese Cultural Club participated in the McLean Bazaar making classic Japanese snacks such as ramen, onigiri, and mochi. They've also had booths at Celebrate McLean and International Night in order to grow their audience.
Currently, the club is preparing its last event on May 20.
"We have an upcoming bake sale in collaboration with the Asian American Association, where we will be selling Asian sweets," Yamazaki said. "It was hard to coordinate with AAA, but I worked with [the activities officer] to connect with AAA, and hopefully our final event will be a success.
The bake sale isn't just meant to raise money– it's to also wrap up the school year by showing appreciation for the club's graduating seniors and expand the club's audience for next year.
"I really hope our end of the year event can include little bits of what our club has to offer," Yamazaki said. "My fellow execs want to plan something as a big thanks [to our senior members who] will be leaving us this year."
Latin Club
With a combination of rich history and traditions as well as a contemporary culture, the Latin Club is hosting and taking part in many unique events this spring as the semester comes to an end. The almost completely student-led club has over 30 members and meets every Thursday, open to any student interested in learning more about the Latin world. Senior Ray Zhao is one of the three councils of the club, based on original Latin society's "council" leadership structure.
"The club runs way back in the days when Mr. Ringer was here. He was a great Latin teacher and a lot of the tradition is now being taken over by Mr. Keuning, who is doing a great job," Zhao said.
Zhao creates presentations for club members and researches interesting topics related to Latin study. He also takes responsibility in organizing several of the club's events, including open houses and information sessions. Zhao is an assistant leader for the yearly Latin Convention, an event in which many students interested in Latin study take part in an educational day.
"[The Latin Convention] is held on a yearly basis," Zhao said. "We usually go there to take a few exams to really see where [we] are in terms of Latin educational placing, but it also [is] a lot of fun. [There are] a lot of informative and enlightening lectures and a lot of people will come from TJHSST or come with their friends."
The Latin convention also hosts special guests and activities, encouraging attendance for the end-of-year event. Zhao vividly remembers a weapon exhibition from his sophomore year, for instance.
"When I was in 10th grade, they had this weapon exhibition which was all of the Roman encased armors and middle aged weapons," Zhao said. "Then they had a few enthusiasts which demonstrated how they would use them in practical battles."
French Club
From listening to French music to exploring French geography, comparing life in America to France and even decorating wooden spoons, the French Club's activities span across a variety of French-related topics. Their meetings always include French snacks and activities intended to keep the environment lively. These perks attracted members, most of whom are enrolled in French at McLean. However, speaking French is not a prerequisite to being involved in the club.
"We don't speak in French in the club, but rather learn about French society and customs," said junior Thaïs Rolly, president of the French Club. "During our meetings, we talk about recent French news, parts of French culture and then do an activity. At the end of our meetings, we always go outside and eat French snacks."
Currently, Rolly runs the club alongside Vice President and junior Gabby Colder. They plan club meetings, run the Instagram account and plan events. Rolly largely rebuilt the club when she took leadership.
"I joined the club my freshman year, when it was run by seniors," Rolly said. "They didn't do anything and met for only 5 minutes. I decided to take over the club once they left and actually make it about French culture and society."
The club canceled a potluck slated for the end of the academic year, but Rolly hopes to expand membership at the school and host more events next year.
"Next year, I want to have more interactive activities and let the members choose what activities we do," Rolly said.
Muslim Student Association
McLean's Muslim Student Association (MSA) has hosted an abundance of immersive and engaging activities for members. The club made a recent comeback after a period of inactivity spanning several years.
"The club actually wasn't started by us, the last meeting actually took place in 2016, so we started it back up and revamped it this year," sophomore Mo Anam said.
Anam is the vice president of the Muslim Student Association and is a substitute for the president when they are not able to attend meetings. He was already part of the Middle Eastern Club and looked to join similar cultural organizations in the school.
"Being a Muslim, I wanted to engage more with people of the same culture and religion as me, which is why I joined the Muslim Student Association," Anam said.
The club takes part in numerous Muslim traditions troughout the year, especially during the month of Ramadan in April, a time of fasting and prayer for Muslims around the world.
"For Ramadan we have Iftar, which is basically the meal you eat to break your fast after sundown," Anam said. "We [hosted one] Friday [April 29th] in Fairfax along with other Muslim Student Associations.".
The club also supports the DC Muslim Interscholastic Tournament, which hosts workshops and interactive competitions for Muslim students across the D.C. area. The MSA occasionally participates in fundraisers to raise money for the culturally immersive annual competition.
On top of that, the students of the Muslim Student Association also plan to participate in some end of year activities.
"We hope to do something for Eid, which is the holiday when Ramadan ends or an end of the year goodbye kind of activity," Anam said. "We are open to every religion [and] race, it does not really matter and it's not a Muslim-exclusive club. So, if you're interested, join in," Anam said.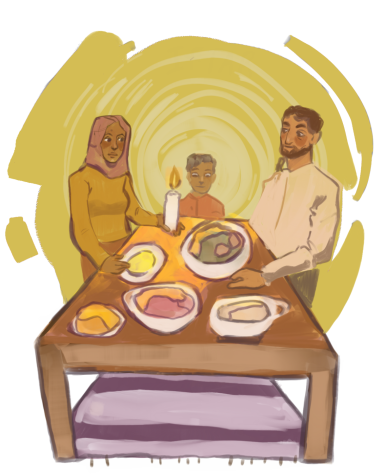 Jewish Student Association
The Jewish Student Association (JSA), founded this year, has rapidly developed its own unique community of students. The association hosted multiple events to celebrate Jewish holidays, held meetings every one or two months, and worked with other clubs.
"There are other [Jewish] organizations that I've been a part of and found a strong community in," said junior Dalia Fishman, president and founder of the Jewish Student Association. "I wanted to join that here [at McLean] but there wasn't a club like that, so I created it by default, just because I wanted to join it."
Fishman runs club meetings, and hasn't let the novelty of the JSA stop her from accomplishing all she can this year. One of their first events of the year was the Challah bake on October 22, where participants participated in making Challah, a bread enjoyed by Jews on holidays and the Sabbath.
"People brought in ingredients and we made Challah that people could actually take home and put in the oven," Fishman said.
Around Hanukkah, the association celebrated Jewish foods, played dreidel—a children's game based around a four-sided top with Hebrew letters— and watched a video about the holiday. During another meeting, Fishman invited a Rabbi who asked members about what was on their mind. Most recently, the club celebrated Passover with traditional Jewish Matzah bread, cream soda and other snacks, along with finger puppets intended to illustrate the holiday's purpose.
"One of the main ideas of Passover is that every single year, we retell the stories that we as a people never forget, how it might have felt to be enslaved once in Egypt and how we never want to experience that again," said Adam Newburger, math teacher and JSA sponsor.
The club intends to create a relaxed environment, where members can come to enjoy Jewish food and just talk.
"We get together to eat and chit chat, which is a very Jewish thing," Fishman said. "By this club existing, just the inherent formation of it, means you can come somewhere and not have to try to be Jewish. You just are Jewish and act Jewish and be actively Jewish."
Fishman has been planning a final event for the club. Although the association has had many events throughout the year, this event would be the first the club hosted with other Jewish Student Associations in the school district. As of now, the club plans on hosting a volleyball game.
"We have a plan," Fishman said. "I've been contacting other schools' Jewish associations and the plan would be for all the JSAs to meet together and have a kickball game or something like that, with lots of food and a big sense of community."
Leave a Comment
Your donation supports the McLean High School's independent, award-winning news publication.