Students raise voices against return to in-person school
Safety measures on full display as some students protest current policies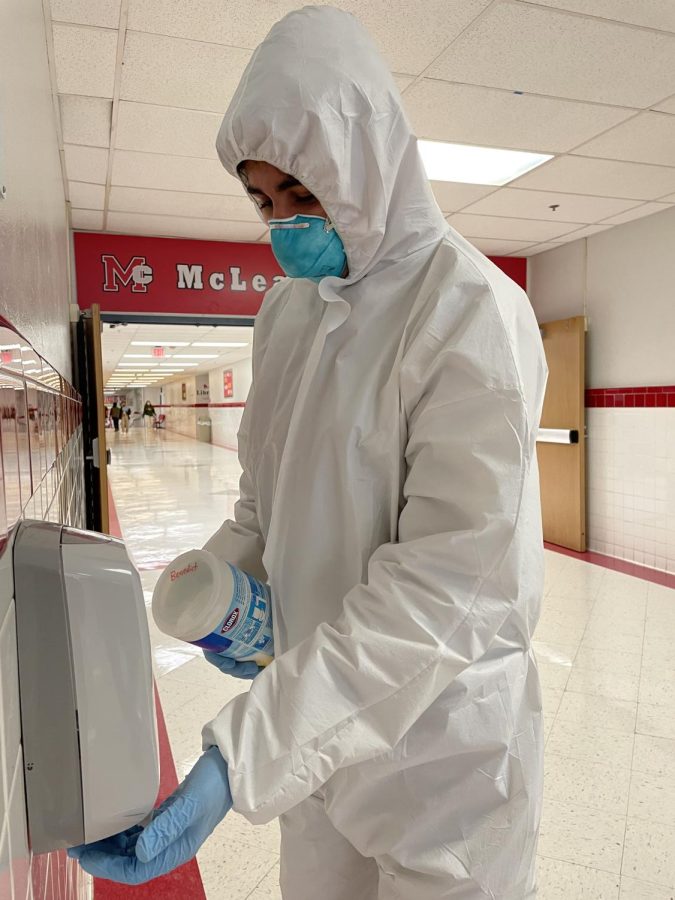 Coming off the heels of five straight snow days and a national surge in Omicron cases, McLean students were fearful of the increasing threat of COVID-19 in the school building. In response to Fairfax County Public School's (FCPS) announcement on the continuation of in-person school, students have been finding ways to protest the decision.
"I do not feel safe returning to school because right before winter break, we had 35+ cases, and I'm sure it's grown [as a result of] students traveling back from around the world," said senior Arman Nikmorad, a student protester who wore a hazmat suit on Monday, Jan. 12 to draw attention to the dangers the case surge posed.
Opponents to a fully in-person learning experience cite inefficient testing, staff shortages and high case counts as reasons to offer a virtual option or switch entirely to online classes. When cases are reported in the school, they often take days to process, and a poorly-handled holiday COVID-19 surge has added to concerns.
In the week before winter break, the FCPS COVID-19 case tracker reported a spike in cases, leading to an increasing number of students being contract-traced and directed to stay home. FCPS does require student vaccinations or negative COVID-19 tests, so some students are concerned about the effectiveness of health regulations at school including social distancing and wearing masks.
"I very much do not feel safe as well as many of my other peers. The hallways in our school are so crowded and our desks are so close together that there is no way that social distancing can be effectively practiced," senior Cheryn Hong said. "It scares me because so many kids at our school do not wear their masks properly and there are also kids that have still not been vaccinated."
Hong believes a move to virtual learning could mitigate the rapid spread of COVID-19 in the school, as FCPS already has implemented Zoom in the event schools need to switch online. Multiple parents asked about a virtual option in a meeting with McLean principal Ellen Reilly and Dranesville representative Elane Tholen on Wednesday, Jan. 12. Students in schools supporting a virtual learning option share the same sentiments.
"There are way too many cases right now for it to be safe for us to [be in-person]," Hong said. "It is smarter to just close now until cases aren't as high and FCPS already knows how to operate virtual learning from [experience of using it during] the past 2 years."
Despite student efforts in demanding online school, the FCPS school board announced that if 11% of the school staff is infected with COVID-19, schools will be asynchronous, where students will still be required to attend school but will complete assignments at home. Additionally, Virginia's SB-1303 law requires schools to offer in-person learning as a choice to all families, effectively barring a complete switch back to virtual learning.
Dranesville representative Elaine Tholen told parents at the meeting on Jan. 12 that offering a virtual learning option is not possible due to the staffing constraints making basic operations in school difficult. Many teachers across the county have tested positive for COVID-19, leading to a high demand for substitute teachers which are already in short supply due to factors affecting the national labor market. 
"While hundreds of central office employees have already stepped up to volunteer to support schools this week…we are expecting the need for volunteers to continue or grow in the coming weeks," FCPS Superintendent Scott Brabrand said in an email announcement on Jan. 4. "For the next three weeks — January 3 [to] January 21 — I am asking those central office operational staff members who are able to assist, to register as volunteers to support school operations."
While a switch to virtual learning remains unlikely and case totals continue to reach record highs, students like Arman Nikmorad will be waiting for FCPS to take what they feel is decisive, preventative action.
"I think FCPS is not prepared at all for returning to school, [especially] with such high COVID cases right now," Nikmorad said. "I think that we should go hybrid again, giving the option for students to stay home, and for some students to attend school if they want an in-person education."
Leave a Comment
Your donation supports the McLean High School's independent, award-winning news publication.