COVID-19 case increase stokes panic
Students stay home and rumors worsen as cases spread across school
Many students stayed home today, Dec. 16, after widespread rumors of a COVID-19 case hike disseminated around the school.
"I have immunocompromised family members at home and my parents and I decided it'd be best not to take that risk," senior Zaynab Rashid said. "Especially because I know I'm not missing any instruction in school over the next two days with break coming up."
Holiday season celebrations are possible causes of the case hike, and stories circulating around the school also suggest students may have come to school knowing they had COVID-19. Despite the claim's questionable validity, rumors are contributing to a communal sense of discomfort and fear which many teachers have noticed in classrooms.
"I did have some seniors tell me that they weren't going to come…because they just don't want to be exposed," English teacher Anna Caponetti said. "I had one student tell me yesterday [that] it felt like every senior they knew was either being contact traced or was currently sick."
Many events leading up to the holiday season have been or are being replanned. The school canceled the Pep Rally on Dec. 16 and a bonfire slated for Dec. 17. A school announcement cited weather concerns for canceling the bonfire at the end of the day Thursday, despite forecasts predicting an extremely low chance of precipitation and temperatures in a 50s, a comfortable winter range. One boys varsity basketball player told The Highlander that the McLean-Langley basketball games on Dec. 17 might be canceled.
Some music teachers were considering canceling the winter music assembly annually held on the last Friday before break, where many students and staff would be packed tightly into the auditorium. However, the school has decided to keep plans in place.
"We will do the holiday showcase concerts in-person as originally planned tomorrow," orchestra director Starlet Smith said. "Apparently [the school has] sent so many students home today due to COVID contact tracing that tomorrow's attendance is expected to be extremely low."
Connect Groups scheduled for Dec. 16, where junior and senior "Big Mac" mentors help assigned sophomores and freshmen, faced pushback from student leaders called "Execs." Some directly discouraged the Connect Groups in group chats leading up to today's scheduled mentor meeting.
"I know [Gregory Olcott, director of the Big Mac program] said snacks are fine, but I highly recommend that you don't bring any in order to reduce any unnecessary risk," an Exec texted her Big Mac mentors. "And if y'all aren't comfortable with coming to school tomorrow, I completely understand…this isn't being handled ideally by admin."
Olcott canceled Connect Groups in an announcement on Schoology, McLean's online learning platform, one hour before they were scheduled. He had announced a relocation outdoors the day before. Olcott cited scheduling conflicts, but a conversation he had with Execs the day before Connect Groups indicates the school administration is aware of student concerns about the case increase.
"Just spoke to admin," Olcott said in a Remind message to Execs on Dec. 15, prior to their cancellation. "They want us to keep [Connect Groups], but move them outside. I advocated your concerns [about the risk of COVID-19], but no dice."
Student opinions on the school administration's role in the case uptick are mixed; some believe students should be blamed for participating in high-risk activities, while others feel the administration hasn't addressed fears seriously.
"The school is doing their best," an anonymous senior said. "They canceled the pep rally, they canceled Connect Groups and they [allegedly] have plans to cancel the Langley [basketball] game. It's not the school's fault, it is the irresponsible students who knowingly have COVID and partake in social activities and come to school. If you're sick, stay at home."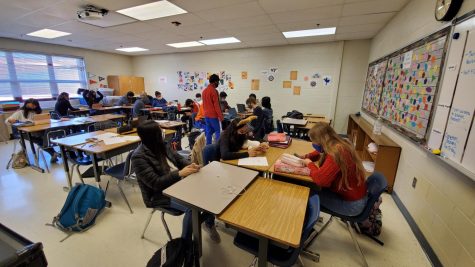 Others think the administration's lackluster communication with the community is stoking panic among the student body.
"Nothing was ever officialized in an email, so it wound up being passed along through students—the way it's been all year," said sophomore Sara Smith, who stayed home due to her father's concern about the case hike. "Ideally, the administration would send us emails addressing every new case or rumor, so we'd know whether to plan ahead and stay home if need be."
Teachers and students both believe the current case reporting mechanism is ineffective. A Highlander investigation in September uncovered a COVID-19 case that was erroneously ignored in reporting. Many cases from the past week were not published on the Fairfax County Public Schools case tracking website until the end of the school day on Dec. 16, long after rumors began spreading and students opted to stay home. Students and staff have also expressed concerns about the accuracy and breadth of contact tracing.
"The timing is really difficult," Caponetti said. "It's very hard to determine [COVID-19 exposure] just from seating charts because kids move around. Before class starts, they'll be huddled in a corner talking about something, and then the bell rings and they come back to their seats. Contact tracing is…a very fraught system."
The case spike is not just a McLean trend. The New York Times reports that cases across the nation are increasing, and at least three renowned universities—Cornell University, New York University and Princeton University—moved finals online due to a COVID-19 surge.
The administration declined to comment on data about absences, student concerns or the case increase, citing their high workloads leading up to winter break. Many students are becoming increasingly anxious as fears of a possible pre-winter break surge amplify.
"I'm very scared of this because a lot of my friends said they were in close contact or have heard about people who are positive for COVID," junior Emma Hu said. "You never know if it's going to happen to you."
Leave a Comment
Your donation supports the McLean High School's independent, award-winning news publication.