Students host pro-choice walkout
McLean students lead large-scale walkout as part of statewide protest initiative
10 students led a large-scale walkout today against the leaked Supreme Court draft opinion overturning Roe v. Wade, which protected abortion access based on an implied Constitutional right to privacy. The protest was guided by Generation Ratify Virginia, which loosely organized walkouts across the state.
"It's the [low-income] people in Texas, Louisiana, Alabama, Utah," said senior and walkout organizer Leah Siegel, facing a cheering audience. "They will not have access to a plane ticket to Canada [or] anywhere where abortion is legal. So yes, while we're all here fighting for our rights, we're mostly fighting for their rights to an abortion."
The McLean juniors and seniors leading the walkout began planning the event on Wednesday, May 4. They specifically chose May 9 at 12:30 p.m. to maximize participation in the walkout, which, at its peak, had so many students that the crowd overflowed onto Davidson Road and the school's front parking lot.
"The biggest roadblock in planning out the walkout was the fact that the AP Calculus tests and AP Computer Science tests took place on [May 9]," said senior Charlie Clayton, who also helped organize the walkout. "We had to find a good time that allowed for a suitable amount of attendance, and thankfully it worked out nicely."
Generation Ratify Virginia provided students across the state with a guide detailing how to lead individual school events. It included pre-designed signs and information on language protesters should avoid using, as well as an example agenda for students to adhere to. Many schools in Northern Virginia participated, including neighboring Langley and Marshall High Schools. At McLean, organizers saw the ruling as the beginning of the Supreme Court's conservative supermajority rolling back minority rights.
"The leaked draft seems to affect and throw into question the precedent set by cases such as Lawrence v. Texas [ruled that restrictions on same-sex intimacy were unconstitutional] and Obergefell v. Hodges [guarantees the right for same-sex couples to be married]," Clayton said.
The McLean organizers created an Instagram group chat and designed a social media graphic about the event, then shared it online. The graphic garnered attention so quickly that McLean principal Dr. Reilly emailed teachers the day of the walkout reminding them that students have the right to participate.
McLean's walkout leader had been a part of Generation Ratify Virginia's efforts to prevent abortion restrictions in the state legislature. When Politico published the leaked Supreme Court draft opinion, she found her calling at McLean.
"I'm personally involved in Generation Ratify Virginia..when I heard the organization was leading a statewide school walkout to voice students' opposition to the recent draft opinion overturning Roe v. Wade, I knew McLean had to be a part of it as well," said senior Kate, who chose to remain anonymous out of concern that her religious parents might discover her role in the demonstrations.
Despite the large turnout, many decided not to attend—including some pro-choice students.
"I'm very pro-choice, but I think it's just so deeply performative and is making a mockery of the whole [leaked ruling]," an anonymous sophomore said. "It's an excuse for people to skip class."
Local news stations, including NBC4 Washington, interviewed students directing the demonstrations. Positive press coverage was important to the organizers, who found a student in the crowd to answer questions for the spanish-language Univision television station when a reporter appeared. The event marks the second time local members of the press have visited McLean in less than a month—NBC4 Washington and FFXNow covered an afterschool protest against then-candidate for Superintendent, Dr. Michelle Reid, in April.
The organizers prepared for possible conflicts with pro-life activists, which failed to materialize at a large scale. Towards the end of the demonstrations, however, a local resident honked at students and yelled at them to remove their car from his driveway, causing protesters to briefly confront him before Siegel calmed the crowd.
Some participants also shared photos of a student holding a Christian necklace as they returned to class. In one Instagram story, a protester wrote "keep your religion out of my rights," a reference to vocal religious pro-life activists.
Participants also criticized a student, who was not an organizer, for taking control of the crowd and leading chants. Many took issue with his phrases, like "my body, my choice," because they argued he was incapable of giving birth. Other students jeered at organizers when they spoke to the crowd through a megaphone.
"I was really happy with the turnout," senior and organizer Hanna Boughanem* said. "But I felt like some people definitely played a role when they…took over in a way that wasn't necessarily appropriate."
The organizers originally planned to offer an additional walkout on Friday but canceled it due to Monday's high attendance rates and press coverage. McLean's organizers will continue observing abortion rights, which they believe are at-risk due to Republican lawmakers and moderate Democrats in favor of more stringent regulations on the procedure.
"I honestly don't know [if Virginia will behin restricting abortions]," Clayton said. "I could see it going either way, but I do think some restrictions are very likely to be imposed under the current state administration. Whatever happens, there's going to be inevitable backlash…I'm just glad to be moving out of Virginia for college."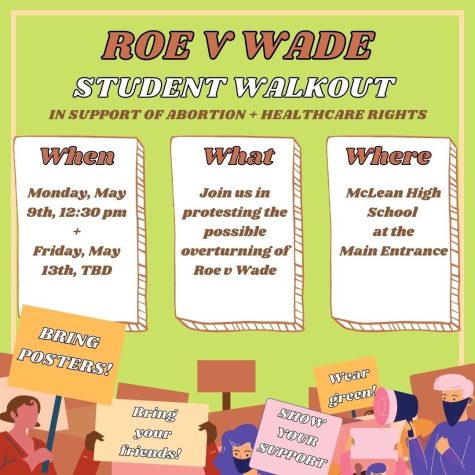 *Hanna Boughanem is a managing editor for The Highlander, but this article was written independently of any affiliation to organizations involved in the pro-choice walkout.
Leave a Comment
Your donation supports the McLean High School's independent, award-winning news publication.