Paint Up makes a splash
McLeadership brings new spirit to McLean
This year, McLeadership has switched things up for football games by adding new spirit day themes. One theme in particular has students show up to the game early wearing white shirts to get splattered with paint. 
McLean High School held Celebrate Mclean on Sept. 17,  a small fair to represent all of the school's extracurriculars, including clubs and sports. McLeadership directed people to come either during or after Celebrate McLean with a white shirt that students were willing to get dirty. There, McLeadership had buckets of paint to splatter on people's clothes.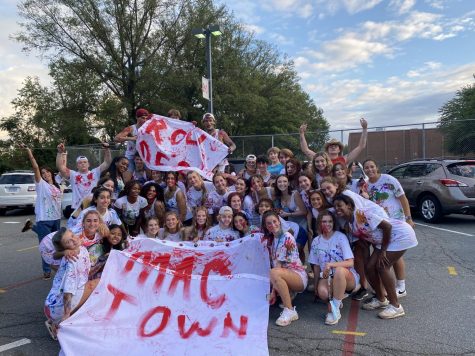 "Leadership [had] a table where kids can splatter paint on their white shirts, and it [was also] available to do at the tailgate in the J-lot before the game started," McLeadership member and senior Rebecca Hatanpaa said. "Everyone brought a white shirt they didn't care about, and they splatter[ed] various paint colors, especially McLean colors, and [wore] them to the game that night.". 
Creative ideas like the Paint Up! concepts were conjured up by spirited juniors and seniors in the McLeadership class.
"There are many people with different interests and opinions, so we all propose ideas we think would be fun and discuss them as a class, whether they're found online, a variation of something else, or even totally new in order to come up with themes we think McLean students will be interested in doing," Hatanpaa said. 
Although there are multiple ideas suggested in class, only a couple of them get approved by Leadership teachers Karen McNamara and Cameron Keuning.
"We don't get everyone to agree, but we vote on our ideas, and we go with whatever gets the most votes," McNamara said. "We present all our ideas for events to Gregory Miller, and he brings them to administration meetings to get approval for us." 
The paint-up theme was interactive and inclusive; as long as people showed up, they would be a part of the event.
"This theme was my favorite football game theme so far; it was really cool seeing everyone participate because not everyone always dresses according to the theme," freshman Hannah Boyle said. 
Paint Up! was the first new theme in a couple of years, and with a normal season comes more appreciation for school spirit. The leadership class members will continue making new and creative themes this year, but they will also stick with some of the traditional themes that McLean has done for years.
"The last time there was a new theme was probably back in 2019. We really didn't have any themed events at all last year," McNamara said.  "I think the Leadership class is open to new ideas and will continue to find new themes or ideas that are out there to try. We will also keep building on any traditions that students want to keep."
McLeadership has been working hard on making this year as fun as possible. The goal is to get the school as spirited as possible, especially the underclassmen who haven't experienced much of high school. 
"Leadership is planning lots of new fun things to get everyone excited about being back in-person and promoting school spirit," Hatanpaa said. "The week of Sept. 27 is full of fun activities with spirit days every day, the junior vs. senior girls football game, a school bonfire, a pep rally on Friday, and of course ending the school week with homecoming. [Students should] make sure to follow the McLeadership Instagram for updates and announcements; the spirit days are all posted there."
Leave a Comment
Your donation supports the McLean High School's independent, award-winning news publication.