Prom 2021 coming up this Saturday
Students will attend annual dance outside on May 15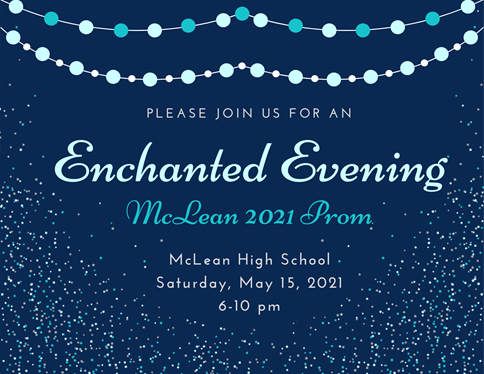 McLean High School's 2021 Prom is happening.
The dance will take place outside of McLean High School on Saturday, May 15, from 6-10 p.m.
Those permitted to attend the dance, members of the junior and senior classes, are able to sign up for one of three time slots to attend the dance. The 6-7 p.m. time slot has a capacity limit of 100 students, while the 7-8:30 p.m. and 8:30-10 p.m. slots are capped at 225 students. This year, guests from other schools are not permitted due to the limited space and safety precautions. Masks will be required.
"It is obviously a very different event since it is outside and at the school, but there will be a DJ, snacks and opportunities for pictures," said social studies teacher Amanda Williams, who is helping to organize the dance. "I think we are all just grateful that we are able to have a prom this year."
Students may sign up for tickets on MySchoolBucks. They can also sign up for time slots via this link:
Prom 2021 Sign up
Students can vote for prominations, or prom nominations, for the Class of 2021. They include Best Smile, Class Clown, Most Likely to Succeed and many other categories. Students can find all prominations and vote on a school-administered Google Form: Prominations 2021
The dress code is semi-formal to formal attire, and the school has advised students to be mindful of the weather since the dance will be held outdoors.
Leave a Comment
Your donation supports the McLean High School's independent, award-winning news publication.