Pep rallies return
Leadership class plans virtual pep rally as in-person learning approaches
As in-person learning approaches for most McLean students, Leadership is preparing for what they do best: planning events to promote school spirit. The class hosted a virtual pep rally on Friday, Feb. 26 to get students excited for finally returning to school.
"We really wanted to be able to do something school spirit related for all of the students of McLean,"  Leadership class member Elena Socknat said. "We knew how much everyone loved the pep rallies, so we tried to pull together something that was as close to it as we were allowed."
Leadership is doing as much as they can to make this pep rally resemble what in-person pep rallies have looked like in years past. Popular parts of the rallies, however, can not be replicated due to the online nature of the event.
"It's going to be very different in terms of activities, for example we can't do the spirit yell between each of the grades, and we can't do as many interactive competitions," Socknat said.
The event will feature student-submitted TikTok dances and other ways for students to feel engaged.
"The pep rally includes two games, an introduction to sports captains and what to look forward to, a talent show including teachers and students, a Highlander rumble dance, and Angus will make an appearance," Leadership member Taylor Benedict said.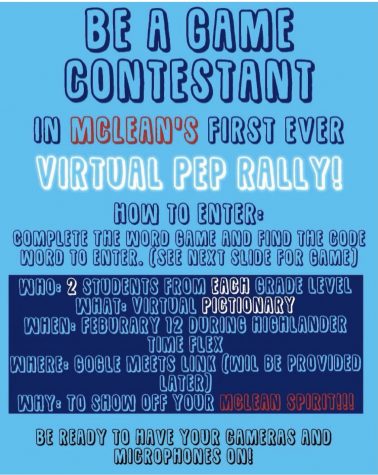 McLeadership's goal is to have as many students and faculty watch the pep rally as possible, which has been a challenge in the virtual environment.
"There currently is no set in stone format, but Friday the 26th is going to be asynchronous, so our current idea is to post the pep rally to the different grade levels' Google Classrooms, and as one of their assignments on Friday they can watch it," Benedict said.
With freshmen and seniors returning on March 2, Leadership hopes the pep rally will bring the school together after a long time apart.
"I hope that every student will watch the pep rally," Leadership class member Kyra Bolden said. "[It's a great way] we can help spread spirit and pride during a difficult and unconventional year."
Leave a Comment
Your donation supports the McLean High School's independent, award-winning news publication.