Enola Holmes is a stand "alone" movie
Netflix's new hit provides an entertaining mystery with a strong feminist message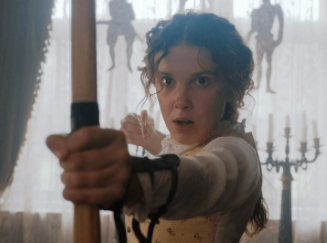 Look out world, there's a new Sherlock Holmes in town and hopefully she's here to stay. Enola Holmes provides a new, progressive take on mystery movies, told through the eyes of a teenage girl who is as equally smart as she is charismatic.
Netflix's film adaptation of Nancy Springer's Enola Holmes Mysteries novels, the movie, which stars Millie Bobby Brown as its title character, brings a refreshing change to the typically male dominated detective movie genre.
Enola, which is alone spelled backwards for those who were wondering, is the kid sister of famed detective Sherlock Holmes(and the lesser known but more misogynistic Mycroft Holmes) who sets out to look for her mother who has recently disappeared. Despite her two brother's best efforts to send her to finishing school where she would learn to behave as a proper "lady," Enola is adamant in her mission of finding her mother.
An expert in solving riddles, Enola finds several clues of her mother's whereabouts and sets out on the path to finding her-with her brothers hot on her tail still looking to send her to finishing school. She quickly becomes entangled with a teenage Lord Viscount Tewkesbury on the run from his own troubles, where she twists the narrative of women in movies needing saving by saving his life-multiple times.
And Enola herself rarely needs saving. Throughout the film she is portrayed to be just as quick witted, capable, and observant as her older brother-if not more, escaping many dangerous situations throughout the film using her sharp mind.  It also helps that she is thoroughly trained in Jiu Jitsu.
Enola's adventures also see her involved with the fate of democracy in England, with a controversial vote for the expansion of voting rights and women's suffrage taking the stage in London.  The film manages to expertly balance these broader themes while staying true to the story of its teenage heroine.
Frequent moments in which Enola speaks directly to her audience provide a welcome pause in the constant action of the film, though not for long, and an intimate look into the lively character that Brown does a fabulous job of bringing to life.  
Though I did find the ending slightly disappointing compared to the pace and buildup of the rest of the movie, Enola Holmes was chock full of excitement, an almost perfect adaptation of the books.
Providing a strong female lead and the narrative that women don't need to be told what to do, there is a clear role model for young girls in Enola, who is smart, strong, funny, and creative-character traits that have typically been allocated to male leads.
By the end of the film it becomes clear that while Sherlock Holmes may be the most famed detective of all time, Enola proves that she is a force to be reckoned with in a film that will hopefully have more installments in the near future.

Loading ...
Leave a Comment
Your donation supports the McLean High School's independent, award-winning news publication.