Supreme Court Justice Ruth Bader Ginsburg dies at the age of 87
Supreme Court Justice Ruth Bader Ginsburg passed away from complications of metastatic pancreatic cancer on Friday, September 18. She was 87.
Ginsburg's unprecedented death has sent shockwaves throughout the country and the McLean community.
"Initially, I was in shock with the rest of the country, thinking about the tremendous impact that her passing is going to have on our political climate," said Mary Scalia, who's late grandfather was former Supreme Court Justice Antonin Scalia. "The shock settled in, and I began to consider her personal influence on myself and my family, and I felt more emotional about her passing."
Mary Scalia has had an up close view of her grandfather's famous friendship with Ginsburg.
"My grandfather's relationship with Justice Ginsburg is something that I find very remarkable. I knew of Ruth and Marty Ginsburg as close friends of my grandparents long before I understood that there was a vast divide in their political opinions," Scalia said. "In addition to law, they bonded over their love of cooking, travel, and music. My grandfather and Ruth loved going to see the opera together, it was really cute."
Scalia isn't the only one at McLean High School who can recount stories about RBG. In 2014, McLean principal Dr. Ellen Reilly formed what is now known as the Girls Leadership Committee and took nearly 60 female students and staff to meet Justice Ginsburg.
"I just remember the reaction when she came in. I remember the power of when she walked in a room. You just took attention to this tiny woman," Dr. Reilly said.
Even though Ginsburg was small in frame, her words carried a lot of weight with the women.
"She was talking about dissent. And about doing it for the purpose of moving your cause forward," Dr. Reilly said.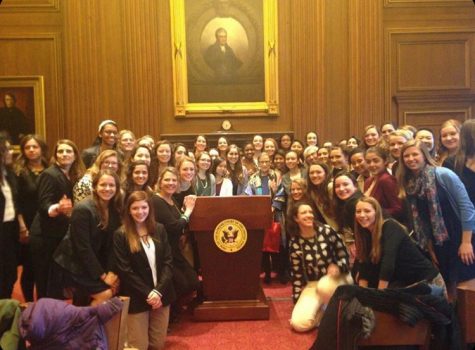 Nicknamed 'The Notorious RBG,' Ginsburg trailblazed the fight for women's equality as both a lawyer in her early career and Supreme Court Justice. As a lawyer, she took on cases with the ACLU that allowed women to do simple tasks like own a bank account or property without needing a man's signature. On the Supreme Court, she was known for her fierce dissents in landmark cases regarding equal pay and abortion rights.
"Looking back at her life, I think we wouldn't be anywhere near where we are today without her. I don't know if I'd be holding the position that I hold without a woman like her." Dr. Reilly said.
Even though Ginsburg's death has left the country in mourning, her accomplishments will not be forgotten.
"Justice Ginsburg has, and will continue to, inspire me, which I'm sure millions of others can agree with. I think her story serves as a reminder to challenge the barriers in our daily lives, the same way she persevered throughout her career in the face of gender discrimination," Scalia said. "The way she has used her intellect as a weapon against adversity is very moving. That, along with her many accomplishments, defines her legacy."
Leave a Comment
Your donation supports the McLean High School's independent, award-winning news publication.