School board votes to go 100% virtual in the fall
The FCPS school board has voted to support Superintendent Scott Brabrand's recommendation to go 100% virtual in the fall instead of the previously proposed hybrid plan to give students a choice between 2 day in-person instruction or 4 day virtual instruction.
The shift in plans has come due to the major increase in coronavirus cases around the United States and in Fairfax County.
At a nearly seven hour long virtual board meeting, the new proposal was discussed. A presentation was given by the Superintendent outlining reasons supporting 100% virtual in the fall. It included data on how many staff and students chose either option, how testing will work in FCPS, and a recommendation outlining the plan for the fall.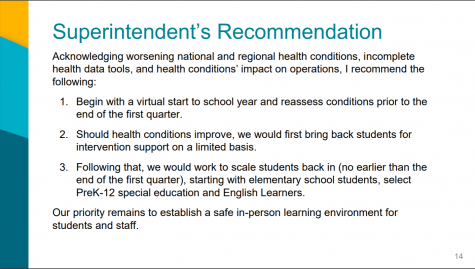 The director of the Fairfax County Health department, Dr. Gloria Addo-Ayensu, was present to answer questions from the board relating to testing procedures and health data in the county.
Then, board members were given the floor to start addressing the superintendent about his shift in stance. A heated argument took place.
"A week ago, we sat there with you, with stable Fairfax County public health data that you knew and we knew," said Megan McLaughlin, Braddock District Representative. "Families were finishing up their choices and you gave zero indication that you were going to do this. What you've given us is a cop- out."
McLaughlin continued to express her dismay at the superintendent.
"I'm trying to understand, Mr. Brabrand how you think that this county of a million people are going to trust your leadership bringing us forward. Even from today, this is a massive breach."
While McLaughlin was the most intense in her disapproval, other board members conveyed their doubts about the superintendent's plan and whether or not it would ensure quality education for all students.
Around 9 pm the board was ready to vote on whether or not they would support the superintendent's plan. Nine members voted yes, while three voted no.
An email was sent out just a few minutes later to FCPS parents and students regarding the new decision. It received mixed results.
"For online school, like last year, our school wasn't exactly prepared for it even though they had a month to plan. So, that might happen again," rising senior Meenakshi Chinatha said.
The shift to 100% online means FCPS teachers will have to work with a new curriculum and different expectations for the 2020-21 school year.
"I'm concerned how all the coursework will adapt virtually in terms of tests and projects. I'm also worried if I'll be able to properly learn the content because I'm more productive in a class setting," rising senior Sadia Obaidul said.
With many doubts in the air about the future, the board is asking for a more detailed plan from the superintendent by the beginning of August.
In the mean time, teachers and students will have to prepare to face a school year unlike any other.
"I think it's the safest approach," AP Psychology teacher Meghan Percival said. "I think that having 100% of our students and staff doing the same plan means we can put 100% of our resources behind making it a great start to the school year for all students."