UPDATE: Grading system to be changed during online learning
School board likely to make 4th quarter as pass/fail and excluded from final grade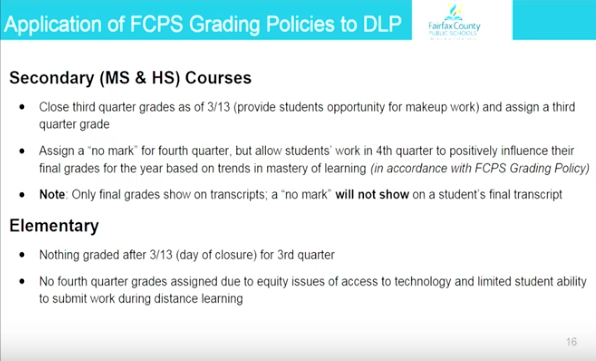 During the school board meeting on March 27, Assistant Superintendent for Instruction, Sloan Presidio, presented the FCPS Distance Learning Plan (DLP) for the remainder of the 2019-2020 school year.
FCPS plans to distribute laptops to 15,000 elementary and middle school students who can't access a device at home and send out learning packets to students in lower grades. Online-learning will start for all students on Tuesday, April 14.
Currently, Virginia Department of Education (VDOE) recommends that teachers do not grade assignments during school closure. The FCPS DLP currently plans to extend the grading window for third quarter deep into April for students opportunities to make up missing assignments.
To ensure learning equity, during fourth quarter, students will receive a "no mark" or pass/fail despite the continuation of online-learning. The final exam will be removed as well.
"Unless the board feels strongly about changing something as a group. I don't think the [DLP] will change," School Board member Abrar Omeish said. "But what they did say is, policies should reflect equity access challenges associate learning, alternative measures achievement and mastery are allowable."
Mastery of learning is when the overall positive trend of a student's grades could positively influence a student's overall grade. In this case, the DLP suggests that students' work during fourth quarter could be used to boost their overall grade.
FCPS students have started a petition to demand that students could opt-in the pass/fail system for fourth quarter, receive optional alternatives to a final exam in accordance with course syllabus, and either receive more optional grades in third quarter or weigh it as 2/3 or a quarter.