McLean cross country runs at Monroe Parker
Early season showing for McLean at Burke Lake park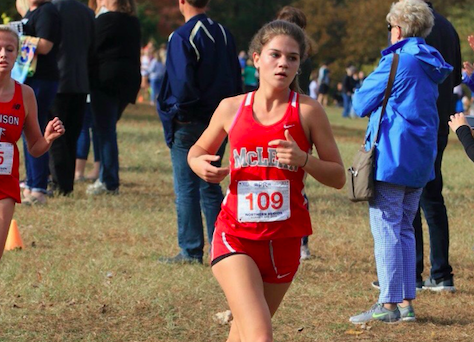 Josh Bass, Online Opinions & Sports Editor
September 15, 2019
Shoe chips, bib numbers, and hundreds of high schoolers gather around in anticipation of the first meet of the cross country season.
Propped to the air, the gun sounds and the inaugural run of the season is underway.
On the morning of Sept. 7, McLean's cross country team hopped on a bus and drove to Burke Lake park for their first meet of the season. The yearly Monroe Parker invitational is always a valuable meet for teams to knock off the accumulated rust that comes with the offseason.
"This race was a really good one to get all the jitters out and to really prepare for all of the other races throughout the rest of the season," senior Elly Glenn said.
The course is not a full regulation, 3.1 mile course, but rather is around three miles in length. This scrapes around 40 seconds off a runner's 5k time. A diverse course, the first mile is situated in a forest on gravel. The second and third miles vary between asphalt, grass, and running over train tracks. Burke Lake park also hosts districts and regionals yearly.
"Monroe Parker is definitely one of my favorite courses because a good chunk of it is in the shade and there are lots of places where people can watch and cheer. The environment is intimidating, but also really fun as an observer," Glenn said.
The athletes started running at 8:00 am. As for performance, McLean girls placed third, whereas the boys placed 18th. Being McLean's opening meet, the run was a great opportunity to judge where McLean is as a team and how they can improve for the rest of the season.  
"The good thing about running is that you are never done improving… you can always train harder, longer, go to the weight room with more frequency, and race faster. Ultimately, for me, the first step in doing that is having a positive outlook on the sport," Glenn said.
Good luck to our Cross Country team as they compete at Burke Lake this morning in the Monroe Parker Invite!!!
🏃‍♀️🏃🏻‍♂️🏃‍♀️🏃🏻‍♂️

— McLeanathletics (@McLeanathletics) September 7, 2019