Sun's out, guns out
Seniors participate in annual senior assassin game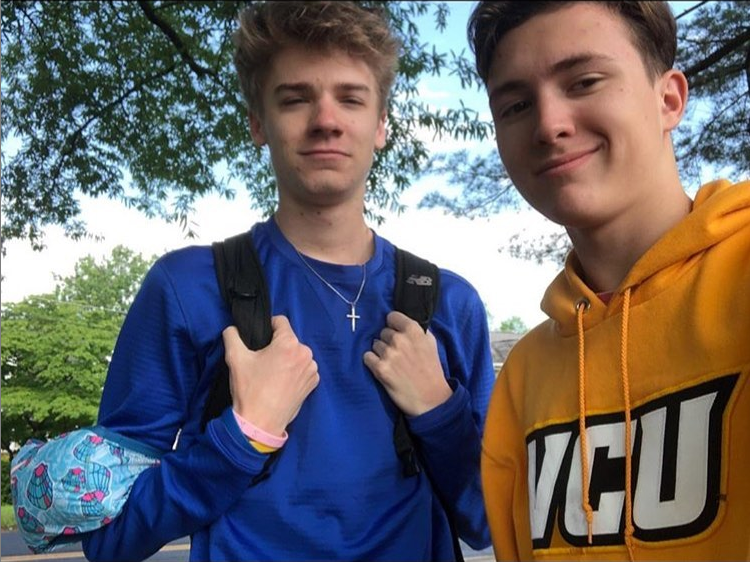 As the school year winds down for seniors and graduation grows nearer, classic senior traditions have begun to pick up. And on May 10 at 6:00 am, possibly the most infamous tradition of them all officially began—"senior assassin," as it is fondly called by players. Now, it is not uncommon to see high schoolers traversing McLean with water guns in hand.
"Senior assassin is basically a game where seniors who sign up are assigned a random person as their target and their goal is to hit them with a water gun to 'assassinate' them and get them out," senior and game organizer Tori Lam said.
The game is completely student-run and not affiliated with the school. Lam and fellow senior Maria McHugo took on the challenge of running the game this year, which entails organizing sign-up, assigning targets and posting 'kills' on Instagram to keep players updated. Lam is unsure of how many years McLean's senior classes have been participating in the game, but has found Instagram accounts for the past three years.
Inspired by the success of last year's senior assassin Instagram account, run by 2018 graduate Laith Samamreh, McHugo has emulated his playful commentary style of post captions. The two have also formed the rules of this year's game from past years, which include wearing swim floaties as immunity from their assassin, "random immunity" days and "purge days," during which there are no immunities.
"We're referencing some older Instagram accounts and getting rules from previous years," Lam said. "They did a really good job last year, the only difference was we didn't want it to drag out as long, so we're trying to do some more special immunity days [and] some more purge days to get it going since we're graduating earlier."
Despite this being many seniors' last week of their high school careers, many have sacrificed their time to work for the stardom that comes with being the game's winner. Early leaderboard holders include Brian Aka, Sammy Timmins, Lindsay Blum and Zayvor Zenk.
"My favorite part is to hear people talking about stuff and know what they're talking about, like when they're plotting assassinations or are super worried about who's out to get them," Lam said.
The game will end on June 1 or until only one player is left, deeming the assassin with the most 'kill points' the champion. Seniors paid $3 to be a part of the game, and half of the money collected will be donated to the Chesapeake Bay Foundation. The rest will be distributed to the top three competitors.
Whether seniors play just for fun or to win it all, the game serves as a final activity to bring the graduating class together.
"It's kind of a tradition, at least it has been the last couple of years, so I think it's something that everybody gets excited to participate in," Lam said. "It's kind of a last hurrah in terms of things we do together as a class."
FOLLOW @mcleanseniorassassin ON INSTAGRAM TO KEEP UP WITH THIS YEAR'S GAME!