18 seniors sign off
McLean celebrates the commitment of 18 student-athletes
McLean celebrated the athletic commitment of 18 seniors in the lecture hall today on April 25. As members of crew, track and field, lacrosse and more, this event was the culmination of years of work for every student-athlete honored.
Senior Alex Glassman is committed to the Division III dive team of Lake Forest College in Lake Forest, Illinois. He made the decision to dive at Lake Forest after a tiresome series of college visits earlier this year.
"My commitment process was fairly difficult. Once I narrowed down my top two schools for diving, I went on two recruiting trips, trying not to miss the beginning of senior year while also making sure I got a good idea of how the teams work," Glassman said. "That was one of the toughest decisions I had to make. I finally settled on Lake Forest College, a [Division III] school, over Old Dominion University, a [Division I] school based on the team atmosphere and the coaching."
Despite the difficult decision, Glassman is excited to begin his career as a college diver, especially after officially signing today.
"Today felt exciting, yet [I'm] also sad to be leaving high school where I dove for the last four years," Glassman said. "What I'm most looking forward to is having the opportunity to compete at a higher level and hopefully have the opportunity to progress to nationals in the next four years of my diving career."
Senior Rose McCullough signed alongside Glassman and their peers, committing to four years of Division III soccer at Hamilton College in Clinton, New York. For McCullough, the relief of commitment was about more than just her love of the sport.
"I've always known that I wanted to play college soccer, so it was very exciting to have a coach say they want me on their team and pretty much validate all the work that I've put in," McCullough said. "It was also a relief to know where I was going even before starting my college applications."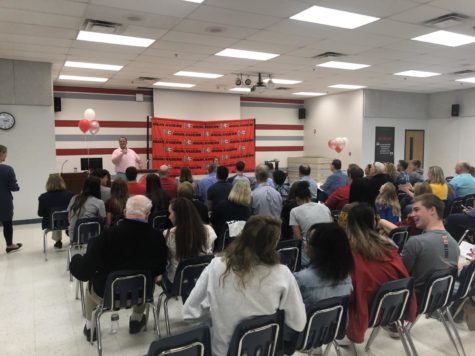 The signing event was a great way to celebrate the coming end of senior year together as well as the effort dedicated throughout each student-athletes' high school career. Senior Lindsey Stirling committed to the Division III track and field team of Christopher Newport University in Newport News, Virginia.
"It was really exciting to officially commit, especially with my other friends there committing as well. I felt very honored with all those people there to support us," Stirling said.
The Highlander community wishes the best of luck to its 18 committed athletes in their college pursuits and thanks the faculty at McLean for organizing the celebratory event today.
Sebastian Pardo, crew: Cornell University (DI)
Paul Fabrycky, crew: Tufts University (DIII)
Hannah Mason, crew: Fordham University (DI)
Taylor Moore, crew: West Virginia University (DI)
JaneAnne Tvedt, track and field: Virginia Tech (DI)
Alex Glassman, dive: Lake Forest College (DIII)
Henry McCarthy, crew: Cornell University (DI)
David Onyejekwe, football: Washington and Lee University (DIII)
Melissa Kazanci, crew: Catholic University (DIII)
Ella Sangree, lacrosse: Columbia University (DI)
Lindsey Stirling, track and field: Christopher Newport University (DIII)
Shannon Stockero, soccer: Johnson and Wales University (DIII)
Gracen Govan, softball: Tufts University (DIII)
Kendall Robertson, soccer: Rice University (DI)
Lindsay Blum, soccer: Saint Leo University (DII)
Mariane Auza, basketball: Emory University (DIII)
Connor Warren, lacrosse: Belmont Abbey College (DIII)
Rose McCullough, soccer: Hamilton College (DIII)