Highlander Slang Dictionary: Winter 2018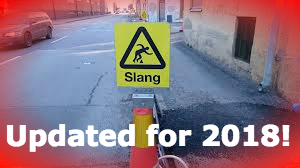 Hang on for a minute...we're trying to find some more stories you might like.
One of the chief facets of the teenage years is communicating with your peers and parents. The latter can be much more susceptible to disconnecting from their child because of slang, which is classified by words of phrases that are very informal or only used in special context. Students around the country take advantage of slang to describe and communicate in a way that reflects how they feel or their connection to the people around them, and the Mclean High School community is no exception. Although not among the most critical pieces, a slang dictionary is a paramount addition to the history of school culture. For many, it is somewhat paralyzing when you can't understand or get the context of some spoken lingo, so here is a list to familiarize/update you on some of the most used slang that runs through the veins of MHS these days.
The ambiguous case: (phrase) a facet of some idea that just makes no practical sense. "We must build a wall to keep them out and then make them pay for it." "Huh, immigration control really is the ambiguous case of foreign relations." 
Reverend!: (greeting) a greeting to acknowledge the capabilities of a familiar friend.  "Hello? Are you there brother?" "Reverend!, good to hear from ya."
Mye Gad: (phrase) a sudden remark in the realization of great misfortune or fear. "Aaand the results are in! You . are . the . father!"  "Mye gad."
Rawsauce: (noun) 1) a moment of elegance in form or precision. "You got a hole-in-one? Then you must have the rawsauce, amigo." 2) Ross Oliver, Rossiver, Rossasapoffus
Traga: (interjection) exclamation of disgust or crippling disappointment. "The North Koreans have weapons of mass destruction." 'TRaaaaAAaaGA!" 
Str8 Garbagio: (phrase) absolutely disastrous in form, quality, or personality. "I wrote a timed writing with my eyes closed and my hands tied behind my back so it was str8 garbagio."
Jaunt: (noun) a being or thing. "You know we got a test next class, right?" "Ya, I am not trying to take the jaunt"
Dicey: (adjective) with the outcome being marginally risky. "Should we delete the whole school's curriculum file folder?" "Woah, that would be be dicey"
Chillga: (interjection) when things get a little too intense or hazardous, especially to one's social status. "I'm going to jump into a pit of flames if you don't rescind that tweet!" "Chillga."
Droclub: (noun) a shortened version of Drone Club, an interdisciplinary group of drone savvy intellectuals.  "Let's have our Droclub meeting tomorrow and remember not to invite Emma"
Crustabustable: (adjective) beyond disappointing. "Socratic Seminars are the most crustabustable educational activities ever invented." 
Send it to Tilted Towers: (phrase) attempting an almost impossible task that, if successfully completed, could be very lucrative. "Execute order 68!" "But my lord" "Nein, it is time for us to send it to Tilted Towers!"
Agro: (adjective) unexplainably aggressive.  "When for a swim but everyone in the lineup was a little agro today."
Splurst: (verb) a quick acceleration in movement or ascension in performance. "How did Johnny splurst into first place? That man hit the burners in the last 50."
Da Pill: (noun) a ball, usually refers to a soccer ball or basketball during a game situation. "Pass me da pill so I can shoot into the goal."
Skrrrrrbrrrrrrup: (interjection) an onomatopoeia to illustrate motion when telling a story. "So then I jump into the airplane, hit the accelerator, and then was like Skrrrrrbrrrrrrup, and took all 4 of them out."
Mactown: (noun) The city of McLean. "If you play an athletics game, win it for the land, do it for Mactown."
Seckelydeckely: (noun) mysterious, hazard lights are on.  *October 31st    "Should we approach for candy even though the lights aren't on" " I don't know, this place sure seems Seckelydeckely to me."
Super EIC: (noun) Ed Walters.   "Hey, super EIC."     Ed Walters: "Yes?"
SKrrrrrrpopop: (interjection) the sound one may make when searching for the right word to use. "Wow, Max! That painting is really…uh, really………..rea-SKrrrrrrpopop."