FCPS makeover fails to hide enduring faults
School system wastes $868,500 on website and rebranding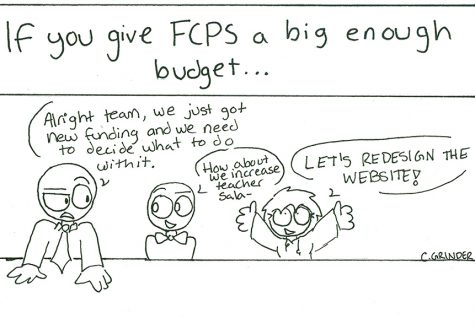 Siddarth Shankar, News Editor
November 22, 2016
Filed under Opinions
Hang on for a minute...we're trying to find some more stories you might like.
Over the summer, FCPS launched a new website and logo at fcps.edu. In total, this rebranding cost a mind-boggling $868,500—$819,000 for the redesign of the central FCPS website and the websites for 15 schools and $49,500 for "an updated FCPS brand including messaging, graphic standards and new brand mark," according to an email to The Highlander staff from FCPS public information officer John Torre.
By prioritizing these cosmetic changes, the school system continues to fail both its students and its teachers.
Last year, outgoing FCPS Superintendent Dr. Karen Garza described the fiscal status of the school system as grave. As part of a campaign to "#SaveFCPS," Garza adamantly asserted that FCPS needed more funding to avoid a $100 million budget shortfall for this fiscal year.
Despite the fact that not all of the requested funding was received, FCPS still thought it was important to spend money to change its logo and website.
According to the Virginia Department of Education, the average budgeted salary for an FCPS teacher this fiscal year is $68,687. FCPS spent more than 12 and a half times the salary of its average teacher to update websites and rebrand.
Although FCPS is willing to use resources for wasteful initiatives, it still claims that it needs more. As a result, the Fairfax County Board of Supervisors is proposing a four percent tax on meals throughout the county.
Seventy percent of the revenue from the proposed meals tax would go to Fairfax County Public Schools. This new proposed tax is in addition to the increase in real estate taxes which allowed FCPS to emerge mostly unscathed from what it predicted to be a $100 million shortfall.
"The entire Fairfax County community has a critical decision to make: either we invest the necessary funds in our students and schools, or we will have to work together to decide what to cut—and we cannot cut our way to excellence," Garza wrote in a statement on the fiscal year 2016 budget.
Instead of the devastating situation that Garza and the school board warned community members about a year ago, FCPS actually ended up not cutting money from its budget for the first time in eight years.
It is true that FCPS allocated money to provide a raise for teachers and reduce class sizes for elementary schools this year. However, a significant amount of the "necessary funds" Garza described were used to update FCPS's logo and website, something that hardly seems necessary or even appropriate.
Torre said in his email that updates to the website made it mobile friendly and eliminated the need for staff members to know HTML coding to make updates.
While more staff members may now be able to update the website, the cost of employing an individual with HTML skills in an existing information technology technician or communications specialist role would cost far less than what FCPS paid to update the website.
Gone is the urgency from school officials like Garza, even though many problems continue to fester throughout the school system.
"I would say the majority of my classes have over 30 students in them. A lot of them don't even have enough desks for each student. This isn't a proper learning environment for either students or teachers," junior Nour Khachemoune said.
Instead of focusing on the current issues within the school system—in fact, the #SaveFCPS campaign is now inactive—officials are now patting themselves on the back over these recent changes.
"The new logo reflects who we are and who we aspire to be in the years to come [and it] reflects our commitment to engage and inspire each member of our community so that everyone thrives," Garza said in a message posted to the new website.
Even as the school system faced financial difficulties, both the Fairfax County School Board and the Fairfax County Board of Supervisors voted to give themselves pay raises of almost $20,000 each. Garza was also the beneficiary of a pay raise and contract extension this July, before announcing her departure from the system this September.
FCPS has clearly been incompetent in its recent handling of fiscal resources. At a time when new enrollment in schools is heavily made up of those who are eligible for free or reduced-priced meals, it's now more important than ever to be spending money on students' and teachers' needs instead of bumping up the salaries of career politicians and paying to update the website.
If FCPS wants to truly encourage students to live by its new slogan—"engage, inspire, thrive"—wasting resources on changing its logo is not the right place to start.