Washington Post chooses McLean for week's top high school football play
Senior Amir McCormick featured in Washington Post video
Carlyn Kranking, Editor-in-Chief
November 2, 2016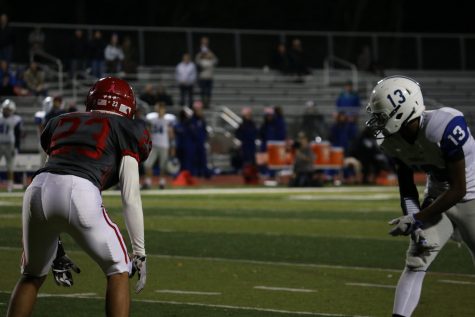 The Washington Post chose McLean's football team for its top football play last week in its weekly feature, "Top Football Plays 2016." The winning play featured senior Amir McCormick picking up a blocked field goal and running it 75 yards across the field to score the final touchdown of the game, with mere seconds left on the clock. The Highlanders won against Fairfax 28-20.
McCormick joined the team this year without any prior football experience. Preseason, his coaches taught him how to play.
"I just went out there and executed and kept practicing," McCormick said. "I've got to thank my coaches for believing in me, putting me out there and helping me."
On Friday, McCormick had many strong plays, including a crucial 20-yard gain that helped the team score and an interception in the endzone that stopped Fairfax from getting a touchdown.
His biggest play, however, was his own touchdown–McCormick's first one of the season. When the game ended, a wave of Highlanders, all in red, rushed the field to congratulate the players and celebrate the win.
"I saw the opportunity and I took it," McCormick said. "It was our first win and last game at home so I was glad that I could do my part."
To view The Washington Post's full top plays video, click here: https://www.washingtonpost.com/video/sports/highschools/top-football-plays-2016-episode-9/2016/10/31/f62694a6-9f84-11e6-8864-6f892cad0865_video.html.