McLean baseball and softball sweep district championships
Baseball defeats Yorktown, softball defeats Washington-Liberty to take home Liberty District Championship
Baseball: 3-1
Softball: 6-2
On a drizzly May night, the McLean Highlanders softball team captured their first Liberty District championship since 2018 as cheers rained in from the surrounding home crowd. The victory, just three days after the baseball team defeated the Yorktown Patriots to win the district championship, was fueled by freshman pitcher Elise Walker's seven-inning pitching performance and marked the first time in school history that both sports took home the district championship in the same year.
"I had this premonition that something [good] might happen [before the game], because every year since I've been here at McLean, every even-numbered year we seem to win the district. So I'm thinking to myself that this is an even-numbered year, so we're going to win this year," softball assistant coach J.J. Foster said. "It was a sense of relief and a sense of real excitement because the girls have worked really hard all year and it's very fun to watch them come together as a team and win."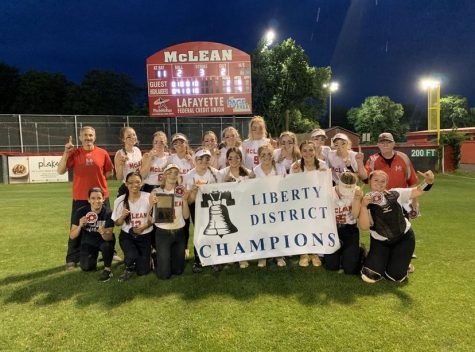 As is true with any team sport, the companionship between teammates and coaches was crucial to the success of both the baseball and softball teams.
"Teamwork played a huge role in our victory, because everyone cheered each other on and picked each other up, which gave us a great environment to succeed," junior shortstop Jakob Luu said.
Although both squads walked out of their respective games with a banner, their victories were not easily earned. Walker and the softball team went down 1-0 in the top of the second inning before roaring back with a 4-run frame directly following Washington-Liberty's first score of the game. Senior pitcher Griffin Stieg and his baseball teammates did the same against Yorktown, using their prowess on the basepaths and Stieg's elite pitching to ensure that the 1-0 lead which the Patriots took early in the game would be their only lead, as well as their only run, as McLean finished the game with a 3-1 victory.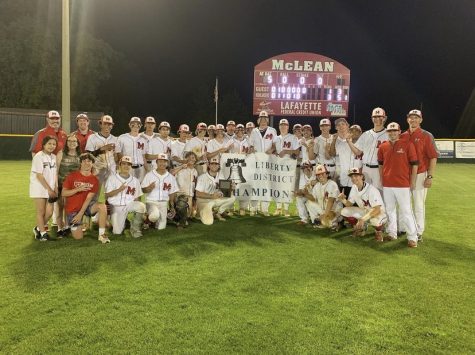 "These guys have been busting their butts to put themselves in this position. They have worked really hard to earn the opportunity to compete for a district championship and I'm proud of them," baseball head coach John Dowling said.
The victories served as forms of revenge for the two McLean teams. In the previous season, Washington-Liberty had their way with the Highlanders, sweeping them in the regular season en route to a regional championship. For baseball, it was even more personal.
"The most exciting part about the victory was beating [Yorktown]," Luu said. "They knocked us out last year and it really stung, so it felt good to get them back."
Although winning the district championship is a great milestone for any team, the focus for the champions is now on the regional round of playoff games.
"Both baseball and softball have established a tradition of excellence here at McLean," Foster said. "I just love playing in the playoffs. I want us to go out there and play our best and see what happens."
Both McLean squads have the potential to win at a higher level than just districts. To succeed in the next rounds, they're looking to focus on plying at their own pace.
"We took our time to celebrate [the district championship] on Friday and Saturday, but now it's in the past. We focus a lot on being in the moment, so sure, it was nice to hang a banner, but in order to do that again we need to focus on what we can do right now in this moment to get ready for our next game," Dowling said. "We can play with any team in the state when we focus on competing in this moment, one pitch at a time.
View this post on Instagram
View Comments (1)
Your donation supports the McLean High School's independent, award-winning news publication.