Class of 2021, signing off
Seniors celebrate their last day as highlanders
The Class of 2021 packed up their bags and logged off of BBCU for the last time on Friday, May 21. Seniors' last day of school was very different from their expectations.
Concluding her four years of hard work, senior Megan Leung, who opted to go back, thought that the class of 2021 were fortunate to spend their last days in the school.
"It's like coming full circle. I'm glad we get to go back in person for the last few months. It made the last day more special, since I first thought we wouldn't even be able to have a last day in person," Leung said. "I thought I wouldn't miss school but the last day is actually kind of sad."
For the virtual students who simply closed their laptops at 3 PM, their last day of school could be described as anti-climatic.
"I expected it would be kind of bittersweet, kind of like the end of an era…But it definitely does not feel like that; it just felt like any other day," senior Anna Abelev said.
Since more than half of the senior class decided to finish the school year virtually, some teachers also felt the year's incompleteness because they did not get to meet all their students.
"Of course we're gonna miss you here, and I hate that we didn't get to have our traditions and say goodbye as we normally would," Math teacher Ginnie Quarry said. "But I'm very excited for seniors to be moving on to [the next stage of their lives] next year."
However, now the Governor lifted COVID-19 safety restrictions, seniors have a chance to finish the year with some of the celebrations Class of 2020 graduates missed out on.
"I'm so glad that you guys [have graduation] at Jiffy Lube live and get to have your families there and celebrate with your friends," Quarry said.
Seniors picked up their caps and gowns in a car parade after school on May 21, and they will attend convocation on Thursday, May 27. Their graduation will take place on Tuesday, June 1.
"Even though your last two years as Highlanders were not normal," Quarry said. "You're still always gonna be a Highlander and a member of our alumni. We're gonna miss you all."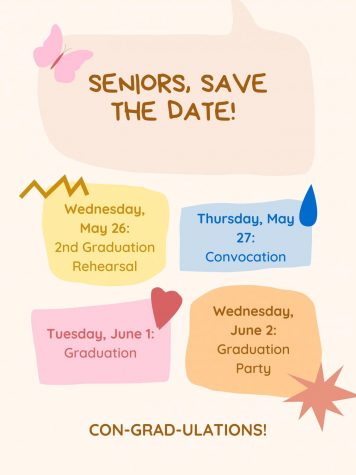 Leave a Comment
Your donation supports the McLean High School's independent, award-winning news publication.