School board presents return to school updates
As the end of the year approaches, the FCPS School Board has set out new changes to ensure a safe and smooth return to school for the remaining groups in 2021.
During a school board work session on Dec. 10, superintendent Dr. Braband went over some of Governor Northam's new policies in executive order 72. The order declared a Virginia curfew from 12 am-5 am and that social gatherings must now be limited to 10 people, effective through Jan. 31st.
Along with the curfew, the governor also announced that they are working to distribute the vaccine to teachers as soon as possible as long as they can get it approved by the VBA.
With all of these new updates, some policies will still remain the same. The governor mentioned that all of these regulations will not change anything regarding schools. Superintendents and school leaders are still going to be making the decisions for their district, and return to school will be at their discretion.
Dr. Brabrand mentioned several updates regarding the safety mitigation measures that they have put in place. FCPS will be following the three core CDC guidelines in the decision making of return to school.
Considering COVID cases have exceeded health metrics thresholds based on guidance from the Centers for Disease Control and Prevention (CDC), return to school for students in group 3, originally on Monday Dec. 14, will be delayed. The maximum number of positive COVID cases must not exceed 10% to return to school as scheduled. As it most currently stands, there have been positive cases in 10.3% of those expected to return.
The delayed group 3 consists of various special-ed classes and recently-arrived English learners (ELs), both through grades 3-12. Return to school for group 3 has been postponed to soon after winter break but a date has not yet been released.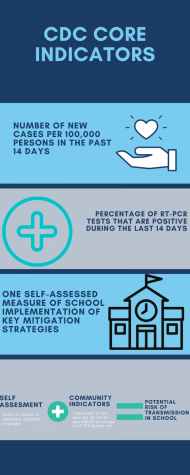 As well as the updated return to school plans, grading policies have also been revised for the 2020-2021 school year effective Jan. 4, 2021. These changes establish 50 as the lowest grade on a 100- point scale, allow all later major assignments to be turned in with minimal penalty, and establish a maximum weight of an assignment or assessment at 20 percent. The revisions also would reduce the minimum number of assignments per quarter from nine to six, plan for flexible final exams/ marks, and re-examine end of the year grade data to inform grading policies.
"It's nice to see FCPS finally starting to see how the grading policies are more stressful than they have to be for students," junior Naveen Patury said.
Students are embracing many of the policies that are soon to be effective.
"I really like the changes and I think they will be beneficial to student's mental health," junior Vaneeza Pasha said. "It will also ensure that we are still learning."
As the pandemic continues some students seem to be optimistic of the future of both in-person and online school.
"I'm pretty hopeful," Patury said. "Everything is finally starting to get a bit easier and I'm feeling more adjusted."