TheatreMcLean advances to VHSL States
McLean theater students take their one act all the way to states
The audience erupts in applause as the one act comes to an end. TheatreMclean takes a bow as the stage lights dim, hoping that their performance was enough to carry them to the next round of the VHSL competition. After a sweeping performance at regionals, which was in late January, and another amazing performance at super regionals, which was in mid February, the TheatreMcLean crew plans for their final show at states. States will be held on March 7, and will mark the end of the VHSL competition rounds.
The Virginia High School League (VHSL) One Act Competition is an annual event for high school theater programs. Each school competes a short one act play under an allotted time; this year is 35 minutes. The best performances are then nominated by a panel of judges and go onto the next round of the competition. 
"There are the district, county, and state competitions," junior assistant director Ben Cudmore said. "If you win the district competition, you move on to the county competition and so forth."
This year's district competition was held on Jan. 25 at Yorktown High School where TheatreMclean competed a piece called "Variations On A Theme" created by Ed Monk.
In the play, the main character, a senior named Nick, is waiting to send his girlfriend Meg off to college at the train station. However, the couple had a huge fight the night before, leading Nick to imagine all the different scenarios that could play out at the train station.
Unlike other traditional TheatreMcLean productions, "Variations On A Theme" allows each actor to have their own individual portrayals of the characters.
"[An] interesting concept of this show is that there aren't really "main roles," Cudmore said. "Most of the scenes are performed by an imaginary Nick and Meg, creating a more ensemble-based show. We have such a talented cast of actors working together to put on this unique production, each having their own authentic interpretations of Nick and Meg."
In the weeks leading up to their performance, TheatreMclean held daily after-school practices in preparation. 
"What I enjoy the most out of watching the rehearsals is seeing what new and creative ideas the actors have for their roles and the playful and fun environment the rehearsal space provides," Cudmore said. "All the effort and practice the actors put in can be seen on the stage, which makes the hours of rehearsal definitely worth it."
To those involved, the experience and bonding from rehearsals are often more valuable than the actual result of the competition.
"There's a sense of pride in a finished show," junior Will Chapman said. "It doesn't feel like work. If I just have a fun time and I get a good product out of it, it's a win-win."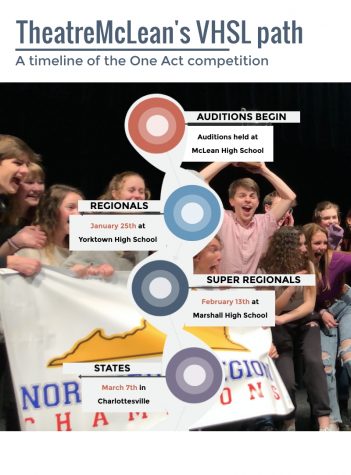 Leave a Comment
Your donation supports the McLean High School's independent, award-winning news publication.