Marching for a change
Fourth annual Women's March symbolizes change, despite smaller turnout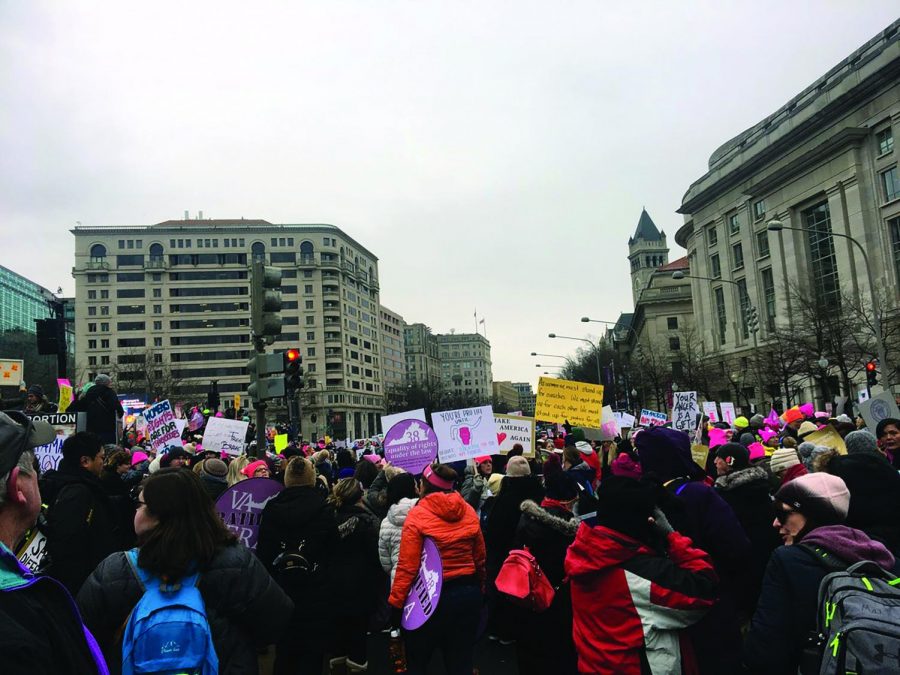 A couple snowflakes fall during the dreary, winter day. Several thousand marchers line the D.C. streets holding posters and wearing pink hats. They gathered on Saturday, Jan. 18, for the fourth annual Women's March.
Each person who attended wanted to show their support and commitment to the various issues that the march addressed, including reproductive rights, climate change and immigrant rights.
"I will do my small part whenever an opportunity presents itself, as long as I'm capable to partake," said Roxaneh Chamlou, a member of the grassroots group Virginia Democracy Forward.
The protesters marched from the Washington Monument all the way to Lafayette Square, right across from the White House, where they ended their trek. According to participants, this year's march was more hopeful than previous marches.
"I was with the Virginia folks carrying an 'Equal Rights Amendment' banner and there seemed to be lots of positive feelings," participant Jacqui Lieberman said.
The first Women's March occurred the day after Trump was sworn into office when political tensions were still high. On Jan. 21, 2017, over 500,000 people marched in protest throughout the capital and over four million people participated in other Women's Marches nationwide.
NBC News
"Women were so angry that we were grasping at every opportunity to jump in and work for change," Lieberman said.
This anger largely dissipated by the 2020 march, but the commitment to fight for change remained.
"The [2020] march was so empowering because of all the kind and energized people that showed up," senior Zazi Halla said.
Attendees felt encouraged by the changes that had happened following the previous marches.
"[The first Women's March] had a huge impact on women organizing grassroots activities. It helped in electing an unprecedented number of women and people of color and addressing the oppression of women in the work environment," Chamlou said.
In 2019, over 100 women were voted into the U.S. House of Representatives and 25 into the Senate. This shift in demographics has impacted many government policies. In 2020, Virginia became the 38th state to ratify the Equal Rights Amendment due to the newly elected congress members.
Although the 2020 march had about 10,000 protesters, which is a fraction of the attendance of the 2017 march, that doesn't mean the motivation behind the goals of the march has dwindled. People have simply found other ways to become involved, make a difference and voice their criticisms of this administration.
"After the [first] march and the election, many of us found outlets for our frustration, like grassroots groups to work with, so marching now seems less necessary," Lieberman said.