TheatreMcLean takes final bow with "Sketchfest"
McLean's drama department showcases last student run production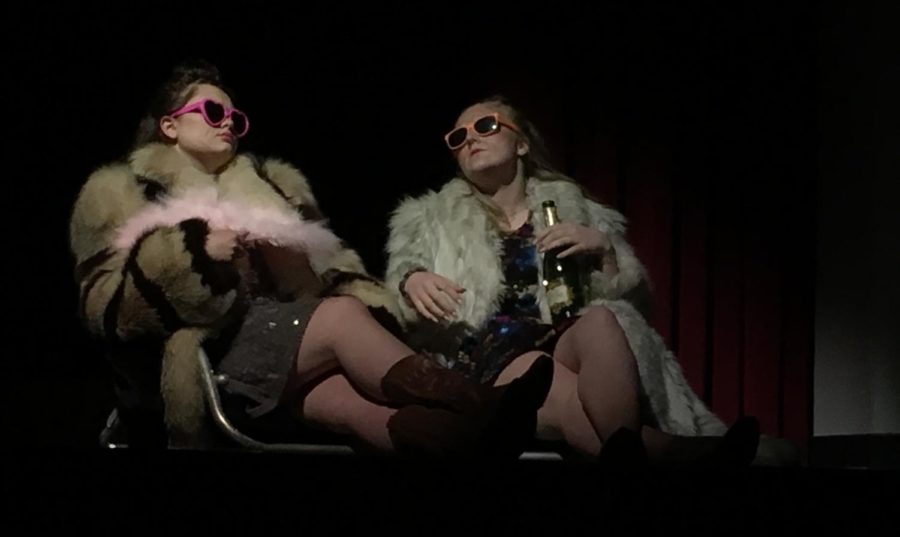 "
Everyone is included and it's a pretty relaxed atmosphere in that it's really just about having fun and being creative together—there isn't as much stress as mainstage production sometimes have."
— Ruby Larimer, senior
TheatreMcLean performed its last event of the school year on Friday evening, May 10. Students have been working tirelessly to put on "Sketchfest," an entirely student run production.
"'Sketchfest' is an event where the students write and direct their own pieces," sophomore Will Chapman said. "It's about celebrating all the talent that we have in our community."
"Sketchfest" allows students to exhibit what they have learned this school year, and receive recognition for the TheatreMcLean community.

"'Sketchfest' is like a mini festival that showcases student talent including writing, acting, and directing," senior Ruby Larimer said. "There are ten student written shows chosen, which are then performed and directed by students within a three week time frame."
Students can act, direct, or write these mini shows, and are not limited to any of these categories.
"I wrote one of the plays being performed, which is being directed by another student, Kristen Waagner, and I'm also acting in a play called Sister Act, written by Lauren Grobman," Larimer said. "It's about two ex-showgirls reminiscing about how they used to use their show to exploit people for money."
Students participate in "Sketchfest" for a variety of reasons, whether it be for an opportunity to bond with their friends or a creative outlet.
"Theatre is basically my only after school activity, so I like to be involved in everything it offers up," Larimer said. "'Sketchfest' is a really good way for me to stretch my writing muscles, because I love writing, but sometimes I don't know where to put it or where to start when I write. 'Sketchfest' is the perfect motivation for me, in that regard."
"Sketchfest" presents a unique opportunity for students through elements that are not usually present in large scale productions.
"Everyone is included and it's a pretty relaxed atmosphere in that it's really just about having fun and being creative together—there isn't as much stress as mainstage production sometimes have," Larimer said.
Although there are a variety of shows, there is a surprising lack of competition which allows students to participate in the performance aspects of theatre with less pressure.
"My favorite thing is the lack of competition," Chapman said. "For the main shows, there's always at least a little bit of competition for roles, but with 'Sketchfest,' everyone always gets in. Plus, it's cool to see people who normally don't do theatre to give it a shot."
"Sketchfest" proved to be a success. Overall, the sketches were hilarious, while still maintaining a proper level of professionalism.
There were nine sketches in total: eight comedies and one drama. From a failed Dungeons and Dragons game to a Confederate roommate, and even a drama about being in a coma, "Sketchfest" truly had something for everyone.
TheatreMcLean truly impressed with "Sketchfest" this year; it was an enjoyable experience, and we would definitely recommend anyone in the McLean community to attend next year.