Amazon CEO Jeff Bezos accuses National Enquirer of blackmail
American Media, National Enquirer publisher, threatened to release graphic Bezos images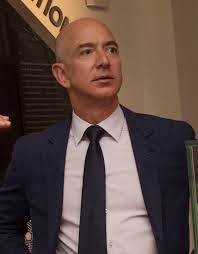 Hang on for a minute...we're trying to find some more stories you might like.
In an article that he posted to Medium, an open source online news publisher, Amazon CEO and founder Jeff Bezos alleged that AMI, the publisher of the National Enquirer, attempted to blackmail him. The blackmail attempt purportedly surrounds Bezos's current divorce from his wife Mackenzie Bezos. 
Bezos and his wife are supposedly separating due to his potential infidelity, with evidence lying with text messages between him and another woman. The National Enquirer's publisher apparently got hold of graphic and lewd images of Bezos, and threatened to release them. 
AMI and the National Enquirer have been embroiled in scandal after scandal as it has been revealed that they released and withheld stories for President Trump during the 2016 Presidential Election. AMI and its CEO, David Pecker, have entered a deal with the Justice Department to exchange information on Trump. However, it seems their deals with journalistic subjects is not over. 
In a stunning disgrace to most journalists, it has been revealed that the National Enquirer has not only been helping and in cohorts with President Trump, but also the Saudi Government. Bezos had apparently hired a private investigator to look into such ties, after which AMI responded by attempting to blackmail Bezos. 
As a longtime ally of President Trump, Pecker and AMI are also likely, as many speculate, attempting to remedy the Washington Post's mainly negative reporting on Trump. However, with the amount of scandals occurring within the White House have made it hard for the Post to report on anything good. Trump has routinely targeted both Bezos and the Washington Post for their reporting, something that may have, once more, pushed him to use his weapon in the National Enquirer. 
In Bezos's own words, "These communications cement AMI's long-earned reputation for weaponizing journalistic privileges." AMI and the National Enquirer will likely be the subject of the many investigations in the foreseeable future.