Government hits a wall
U.S. faces longest government shutdown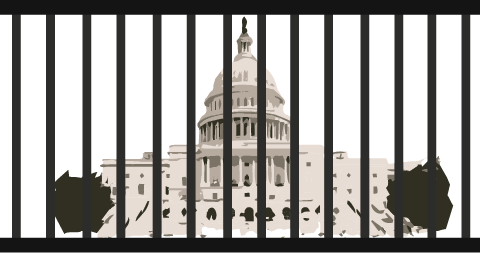 Due to disagreements regarding the 2019 spending bill, President Donald Trump and Congress failed to meet the deadline on Dec. 22 to keep the government running. On Jan. 12, the shutdown became the longest shutdown in U.S. history.
Nine major federal agencies, such as the State and Justice Department, have been closed since Dec. 22. Even the Smithsonian museums have closed their doors.
Over 800,000 employees have been affected by the shutdown. Air safety is under siege because TSA employees are calling in sick due to lack of paychecks. The FDA is not operating, increasing risks of future food outbreaks and public health concern. The U.S. Secretary of Agriculture also announced that farmers have been cut off from their federal funds.
Especially in McLean, where many families work for the government, individuals feel strained by delayed or canceled paychecks.
"The government shutdown has impacted my family because now I have become the primary breadwinner in my family," STEM Design teacher Libby Settlemyer said. "My husband works for the federal government and is furloughed right now."
In response to the shutdown, FCPS hosted two hiring events for temporarily dismissed federal government employees interested in substitute teaching positions. Both events met capacity with 200 registrants at each, and more hiring events are being planned.
FCPS also announced that all students whose families are affected by the shutdown will be provided breakfast and lunch each day and will not have to pay during or immediately after the shutdown.
"In order to help our families affected by the shutdown, we have been holding hiring fairs for furloughed workers to become substitute teachers, and we have been allowing students to go into negative balances on lunch accounts," said Ryan McElveen, FCPS School Board Member-at-Large.
Not only does the lack of income affect parents and teachers, but students also have to deal with the financial consequences.
"My dad has to work and he's not getting paid," junior Sophia Belvedere said. "My parents are both really stressed and we've canceled two vacations so far because of [the shutdown]."
When Trump was sworn into the presidency, he made it clear that he would follow through on his most infamous campaign promise, constructing a wall funded by the Mexican government.
In 2017, Congress provided the Department of Homeland Security $292 million to construct a 40-mile wall in the highest priority locations: San Diego, El Centro and El Paso. In 2018, Congress offered the president $1.375 billion to begin construction in the southwestern region. Rejecting the deal, Trump is now demanding $5.7 billion to finish the U.S.-Mexico Border Wall.
On Jan. 3, the 116th Congress took office, putting the Democrats in control of the House of Representatives and re-electing Nancy Pelosi as Speaker of the House. Trump's chances of seeing a wall fell dramatically.
Officials such as U.S. Rep. Jennifer Wexton (D-VA), who is the representative of many students at McLean, are working to manage the consequences of the shutdown.
"[Rep. Wexton] is working tirelessly to reopen the government," a spokesperson from her office told The Highlander.
While Republicans and Democrats debate, dragging the shutdown on for more than a month, legislation has been implemented to diminish its negative consequences.
On Jan. 16, the 26th day of the shutdown, President Trump signed a bill, passed unanimously by the U.S. Senate, guaranteeing many of the 800,000 dismissed workers their missed wages as soon as the government shutdown ends. This bill also covers compensation for any work done during the shutdown.
These past few weeks have the American people wondering when the two parties will put aside their differences and find common ground. Citizens are beginning to worry about long-term repercussions from the shutdown.
"We are very fortunate in that I've got a job and we've got savings, and now my husband is…working on some projects around the house. It's kind of like having my own built-in person who's doing my chores for me, so in that regard, it's been wonderful," Settlemyer said. "But in the long term, it's not going to be great."
This report was last updated on Jan. 17.