Fun at Friday's pep rally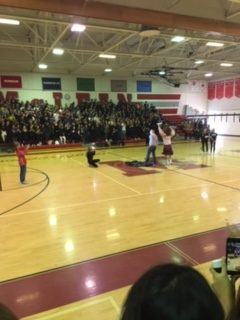 Highlanders dressed in all black, for the blackout, fill the stands of the lower gym. Music is playing and members of Leadership are getting ready to announce the activities that will be going on during the pep rally. Angus, our Highlander mascot, runs around the gym and a yelling battle between grades begins.
On Friday, Jan. 11, the Highlanders had the pep rally to get excited for the basketball game against our rivals, Langley, which occured on Friday as well.
The students are separated by the classes: freshmen, sophomores, juniors, and seniors. A couple games are played, including a hungry hippo game and a toilet-paper wrapping game, and the seniors are always the winners, of course. Later in the pep rally, the winter sports team captains get to display their sport with a banner.
"I participated in the hungry hippo game and it was really fun to have all the everyone cheering for you," sophomore Julia Bodet said.
Mr. Puzan, a history and economics teacher, also got "pied" in the face with whipped cream at the pep rally. This was in support of McDance-a-thon, a club at Mclean, which had money jars for different teachers and whichever two teachers had the most money in their jars would get pied in the face at one of the pep rally. Tony was was of the teachers who had the most money and he ended up getting pied at the second pep rally.
"It was really entertaining to see one of the teachers I know get pied in the face, that made the pep rally more exciting," junior Flavia Carcani said.
All the money that was raised in the jars came from students at McLean and all of it goes to Children's National Hospital, the organization Mc-Dance-a-thon supports. The competition was a creative and fun way to raise money and get people interested in Mc-Dance-a-thon. The pep rally was the perfect time to showcase the club as well.
The pep rally ended with short speeches from students in Leadership about safety and responsibility at the basketball game, along with having fun and beating Langley. This was our second pep rally of the school year, following the homecoming one in October.
The pep rally was a nice ending to the first week back from winter break. It gave the students a break from their schoolwork and got them excited about our rivalry game later that day.