24 Hours to save the ocean
Two seniors win local Hackathon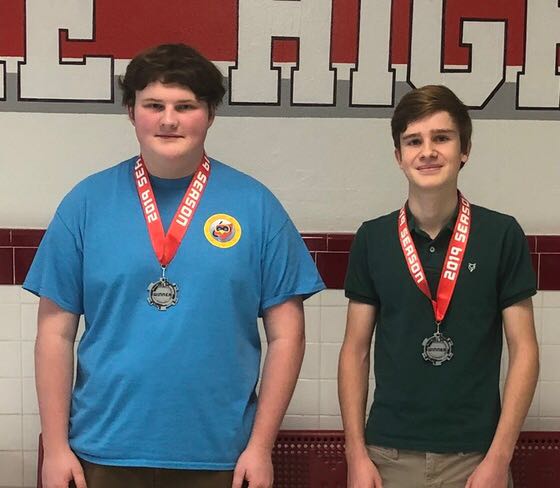 In the "HackBI II" programming competition, held by "Major League Hacking" in Bishop Ireton High School, seniors Jules Le Menestrel and John Mutersbaugh were among over fifty teams who had only 24 hours to devise a software that helps to preserve the ocean, and the was held on Nov. 3 and 4 in Alexandria, VA. Although this was the team's first time participating in a programming competition, they stood out from the rest of the competition, winning the "Best Use of Theme" award. This award, however, wasn't the only exiting thing about it.
"Jules [and I] were even lucky enough to meet the CEO of a fairly big company [Decipher Technology studio] that works on AI predictive programs and sells them," Mutersbaugh said. "We got his business card and he liked our program. He's like, 'Send us a résumé, you could get an internship here.'"
The goal of the competition was for students to develop a sort of artificial intelligence that could be used preserve a healthy environment in the oceans.
"Because the ocean is full of trash, it's heating up from global warming," Mutersbaugh said. "There [are] all sorts of problems, and [in the competition], we were supposed to target one of these problems and create a solution utilizing an AI [technology]."
When figuring out the solution, Le Menestrel and Mutersbaugh incorporated both biological and mathematical concepts to the construction of their project. In doing so, they used a "neural network" program, which mimics neuronal activity in the brain for them to react with each other using mathematical algorithms.
"We entered a huge set of data of coordinates in the ocean [into the neural network program],  [including] the density and size of plastic at that coordinate," Mutersbaugh said. "[After training the neuron net], when we input a coordinate in the ocean, the output would be the density of plastic trash in that area of the ocean, which was fairly precise. We had a 90% accuracy."
The team developed the program overnight on Saturday, Nov. 3, and later presented their software to the judges Sunday morning.
"After we had finished training the program, [we] successfully predicted the garbage patch in the Indian Ocean… By using all of the data in the ocean, and all the patterns, we were able to predict the approximate location and densities of trash in the Indian Ocean." Le Menestrel said. "Programming competitions such as Hackathons are unique experiences where students can incorporate their computer science skills into developing programs that would make a change in the world."
"We think that anyone who's starting off in computer science or already has a lot of experience [with computer science] should try Hackathons," Le Menestrel said. "I was a little hesitant [at first], but it's actually such a valuable experience. You get to know the people who are passionate about computer science and you can get colleges to notice you and [receive] job internship [opportunities]."