A Highlander Halloween
Highlanders express their love for the holiday through creative costumes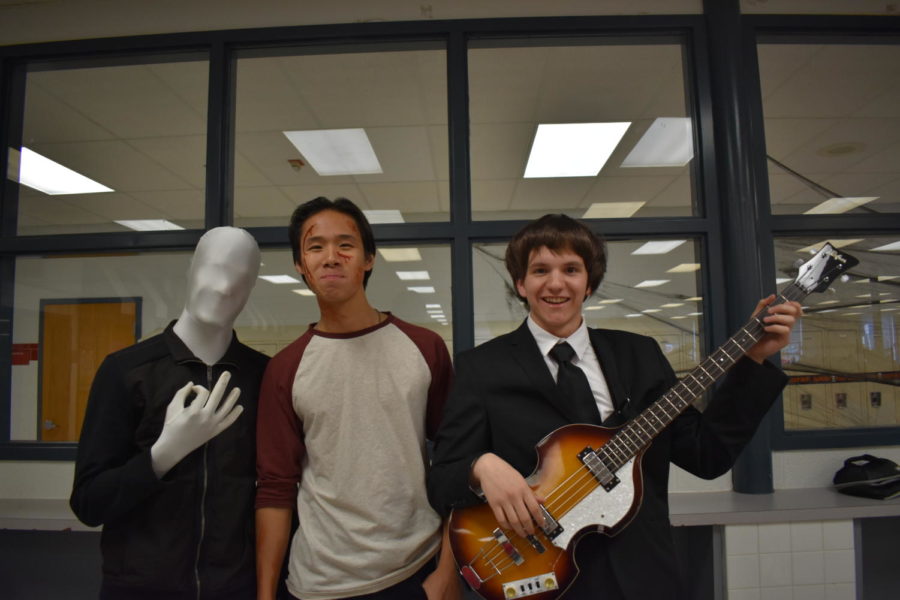 The chill in the air, the crunch of the leaves and dentists' offices preparing for the busy days ahead can only mean one thing: Halloween is upon us. For the Highlanders, this holiday is more than just fear and candy. Students used their inventive minds to craft costumes of all sorts.
The celebration came into full swing during the lunch periods, in which the leadership team ran contests for all students and their costume creations. Senior Alex Haldane, dressed as Paul McCartney, won the first place award during the C Lunch contest. His getup was surprisingly simple to put together.
"I already had the bass, so I figured I'd just buy a wig," Haldane said.
Inspiration shone across the student body. Gaggles of beloved Hogwarts wizards and witches, prized superheroes and villains, and treasured celebrities flooded the hallways as the bells rang for passing period. Highlanders followed their interests to find inspiration for their outfits.
"I really like horror movies… and I constantly do horror makeup in my free time," senior Michelle Ugarte-Nunez said. "I got an American girl doll that I haven't used in ages, got the dress from Goodwill, put some blood on it . . . and now we're here."
Websites and online inspiration led Sophomores Annabel Sibert and Sara Bowers to fabricate their ensembles.
"I'm Cher from clueless, and she's Dion. I saw it on Pinterest, I think, and [I thought] it was cute, so I wanted to do it with Sara," Sibert said.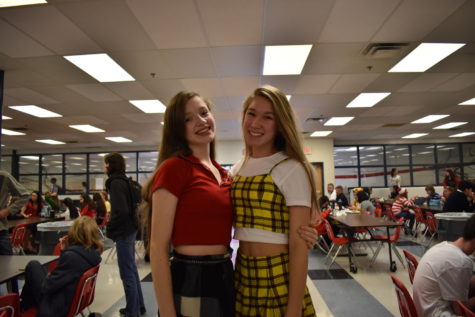 While the act of dressing up increases spirit across the school, many students came in without a costume. It takes inspiration, time and, most of all, confidence, to come to school in such arrant apparel. Junior Sabrina Benmira noticed this as she walked through the halls dressed as a massive green pea.
"[It takes confidence], especially [in] something like this, because it's neon green and it's huge," Benmira said. "So many people are looking at me."
However, this should not deter students from expressing their interests and having fun with costumes.
"I think everyone should have confidence on Halloween," Ugarte-Nunez said. "People that go all-out enjoy themselves."