Everything Sucks!: another Netflix must-see
Hang on for a minute...we're trying to find some more stories you might like.
More stories from Anya Chen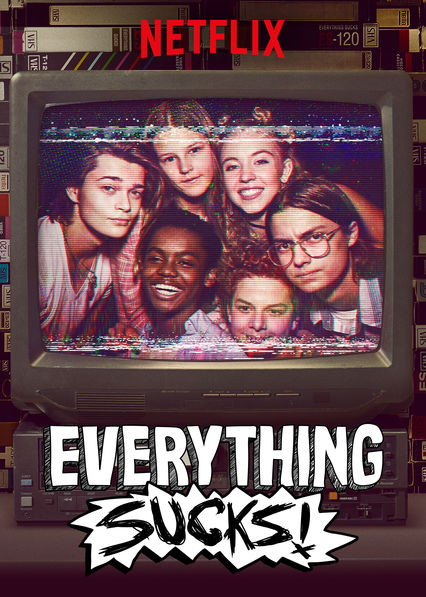 Netflix presents another touching coming-of-age story with its new series Everything Sucks!, created by Ben York Jones and Michael Mohan. Similarly to previous hit TV shows such as Stranger Things, Everything Sucks! is a nostalgic blast to the past: a picture perfect snippet of adolescence in the 90's, filled with VCRs, slap bracelets, telephones that still connect to walls, and music by Oasis.
However, this ten-episode comedy series has no trouble standing on its own. Despite the few scattered jokes that are trying too hard to be funny and the sometimes cliche music selections, Everything Sucks! offers an authentic look into the lives of several blooming freshmen in the town of Boring, Oregon. It presents the hardships of growing up with a certain sincerity and sensitivity that makes it almost impossible not to empathize with the characters.
I stumbled upon this hidden gem by happenstance, and I am so glad that I did. After my friend showed me the first two episodes, I could not stop watching it; I ended up finishing it the next day.
Here are 6 reasons why Everything Sucks! is a must-see:
The high schoolers actually look like high schoolers.  In a time where most high school dramas have teens played by 20-30 year olds who look like supermodels, the cast of Everything Sucks! is a refreshing change.
The cast of talented young actors. Netflix scored with another cast of ridiculously talented kids. The two leads are played by Jahi Di'Allo Winston (Luke) and Peyton Kennedy (Kate), both only 14 years old. They each deliver genuine, emotional performances that do justice to the more mature themes they cover in the show.
The height difference between the male and female leads. This might be a small detail, but for someone who is a tall girl in a society that enforces the standard of males being conventionally taller, it's nice to see some tall girl representation.
Speaking of representation, hello diversity! Instead of casting minority actors for the sake of diversity, Everything Sucks! presents diversity for merit. Jahi Di'Allo Winston stuns as an African American male lead, along with Claudine Nako who plays his single mom.
The presentation of more serious themes. I don't want to spoil anything, but in the journey of coming to terms with identity during adolescence, the show does not shy away from the struggles of the LGBT+ community or the reality of interracial relationships, along with the lives of single parents.
And finally, the soundtrack. The show is filled with classics by Alanis Morissette, Tori Amos, Gin Blossoms and Weezer, among many others. You'll no doubt be hit by a wave of 90's nostalgia–the tiniest bit cliche or not.
Watch the trailer here: