Scholastic Bowl Team advances to Super Regionals Round
Scholastic Bowl team finishes first in Districts and Northern Regional Tournament.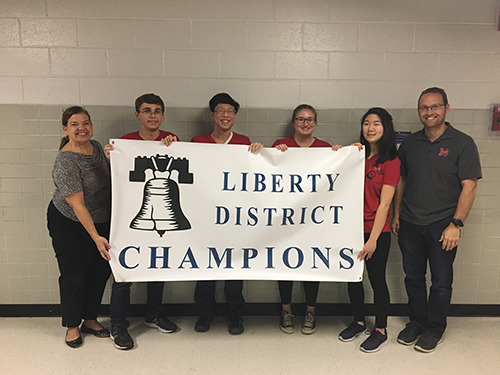 Hang on for a minute...we're trying to find some more stories you might like.
For the second time in two years, the McLean High School Scholastic Bowl team has won the Liberty District and Northern Regional Tournaments to advance to the Super Regional tournament. The top two teams from Super Regional tournament will then advance to the State tournament where McLean looks to continue its successful run led by Coach and Physics teacher Jeff Brocketti.
Scholastic Bowl is a VHSL competition that focuses on general knowledge trivia where teams and students compete in an academic quiz tournament.
"I have taken away a lot from Scholastic Bowl," senior and captain of the Scholastic Bowl team Carson Flickinger said. "The experience of being on this team has built up leadership skills along with a work ethic".
McLean has managed to maintain a successful consistency similar to last year where they placed first in both the conference, region and second in the state.
When asked about how the team has maintained such consistency, Brocketti believed that it had to do with recuritment of younger players to allow for player development,
" We have continued to add younger and younger players and have started to recruit players as freshman. This allows for player development and progress whereas in the past it used to be about finding whatever senior was willing to participate, " Brocketti said.
The team will now began preparation for the Super Regional Tournaments where they look to repeat a successful performance and advance to the State Championship taking place February 24th at the College of William and Mary.
"We meet once or twice a week and pore over packets increasing our general knowledge information," Sophomore Justin Young said. "We practice or reflexes, buzzing and spend time at home doing research and learning new facts. Overall, we just work on toning our skills".
The large improvement of the team from previous years has encouraged Brocketti who takes pride in seeing the progress of the team,
"Its rewarding to see the advancement and progress of the team,"Brocketti said. "To see the commitment of the kids is really encouraging".
Apart from advancing to Super Regional and possibly the State Tournament, the team has many future events down the road including a taping of the popular TV show "It's Academic" on March 3rd. where they will be competing against another team.
"It feels amazing to have won," Young said. "But we are not done yet".