A Single Harmony
Camila Cabello advances as a Billboard 200 No.1 top-charter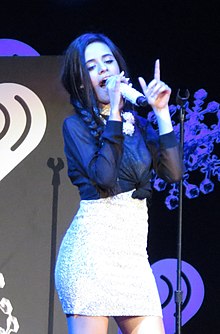 Hang on for a minute...we're trying to find some more stories you might like.
Camila Cabello released her debut full-length album, Camila, on January 12. In less than a week, the solo artist surpassed her yesteryears as a member of the girl group Fifth Harmony and made her mark in music history as the first woman in three years to bow at No. 1 of the Billboard 200 chart.
Camila proves to be a somewhat rousing showcase of the artist's solo efforts, combining her Cuban roots and playful American pop style to form what most millennials would consider soaring harmonies.
Initially, I was skeptical of the quality of the album because the first track, "Never Be the Same," sounds like a generic 2017 pop song with techno progressions and a slightly refined cadence, singing about love and incorporating unnecessary lyrics about narcotics.
The following track, "All These Years," introduces the much needed raw talent to set the tone for the album. Effortless and melodic, the acoustics and bittersweet lyrics quickly usher in Cabello's personal feelings during an encounter with an ex.
"She Loves Control" and "Havana," demonstrate what seems like a new found empowering sense of confidence. And wow, the composure of ebullient rhythms will have listeners playing these songs on repeat.
Cabello continues to follow-up with alluring songs like "Inside Out," which has an exhilarating reggae tempo that makes you want to get up and dance like no one is watching or sing karaoke with your best friends. However, in all honesty, it sounds a bit like one of the theme songs from the Shell Cup in MarioKart Wii; I guess that's why it has such a nostalgic, playful beat.
Moving on from the MarioKart-esque islander zest, Cabello's next two songs, "Real Friends" in particular, fall flat due to the lack of originality; it basically sounds like "All These Years."
Cabello attempts to revamp the last few tracks by reconfiguring previous arrangements but lacks strong lyricism to grasp my attention entirely. As an artist with an extensive vocal range, she is not consistent with quality and is not producing music that encompasses her talent.
The lack of eminent tracks and excessive repetitious instrumentals deters my perspective on Camila Cabello's solo career. Was it too early to release a debut album since departing Fifth Harmony in 2016? Maybe, sticking to single tracks would be best until she genuinely differentiates herself from other pop artists.