McLean/Marshall varsity football recap
Highlanders unable to sustain strong first half performance as they fall 35-14
Jackson Payne, Managing editor
September 2, 2017
Filed under Sports
Hang on for a minute...we're trying to find some more stories you might like.
A strong first half wasn't enough to earn rookie head coach JohnScholla his first career victory, as the Highlanders fell in their home opener to the crosstown rival Marshall Statesmen 35-14.  21 3rd quarter Marshall points proved to be the difference as the more physical Statesmen wore down the McLean defensive front seven.
McLean was coming off a 17-0 loss at Fairfax last week, playing solid on defense but unable to get into a rhythm offensively. The Statesmen also stood at 0-1 but found some success in their run game last week against Madison. Marshall had taken two straight victories over the Highlanders during the past two seasons, with last year's matchup proving to be a major dagger into McLean's season. Following a 144-yard outburst in his varsity debut last year, talented running back George Stimson tore his ACL at Marshall to end his season. A year later, a healthy Stimson and the rest of the Highlanders sought for revenge on their home turf.
In the first quarter, McLean found some early offensive firepower as Stimson broke free for a 50-yard touchdown run thanks to excellent blocking by the offensive line for the first touchdown of the season for the Highlanders.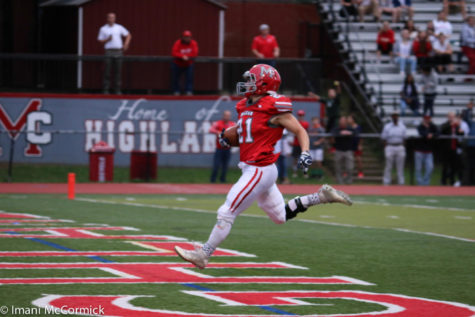 A few possessions later, Stimson had trouble handling a toss from senior quarterback Omar Varela, with Marshall recovering the ball in their own end zone for the game tying touchdown.
McLean took a 14-7 lead going into halftime following a 20-yard touchdown pass to senior receiver Carter Govan, their first halftime lead since Oct. 30, 2015 at Fairfax. Momentum was all on the McLean side, which included a raucous packed house of fans.
In the second half, McLean's defense struggled to stop Marshall on the ground, with Statesmen quarterback Andrew Margiotta scrambling for two touchdowns and fullback Brandon Gonzalez scoring as well. Penalties and fatigue drained McLean's production for the rest of the night, with Marshall tacking on a late insurance touchdown. The Statesmen ran for a collective team total of 320 yards on the night.
"When it's 14-7 at halftime, it all comes down to who wants it more and who's more disciplined and willing to battle their heart out to take that win," said McLean head coach John Scholla. "We had opportunities that we didn't really capitalize on, and penalties, mental mistakes and things like that let them back in the game. We have a lot of individuals but we need to really focus on that team aspect, and a major team principle is discipline, and I think what you saw in the second half was a lack of discipline."
Aside from the long touchdown run, Stimson averaged less than 2.3 yards per carry on his 16 other rushes and fumbled a second time. Senior fullback Adam Taylor ran for 19 yards on four carries and gained two first downs. Varela went 8-18 in passing with 96 yards, a touchdown and an interception, showing vast improvement from his first career start at quarterback last week. Carter Govan was McLean's leading receiver, catching three passes for 55 yards and a touchdown. Junior Luka Karony also caught three passes for 22 yards. Taylor led the tackling charge on defense, with him and Karony both forcing fumbles that were recovered by the Highlanders.
Taylor has proven to be the leader on defense, seemingly everywhere on every play and ranking among the state leaders in tackles a year ago. Govan also performed well at safety, making several open field tackles and locking down in pass coverage.
The Highlanders head into the bye week 0-2, but Scholla remains optimistic regarding the team's direction.
"Being 0-2 at the bye is not exactly what we wanted, but we just need to rebound and I think some time off to heal and rejuvenate this team is going to help," Scholla said. "We didn't do enough to get the job done tonight, but we have a bye week to regroup and we plan to learn and get better from this and hopefully see it pay dividends down the road."
Following the bye, McLean will play at Edison on Sept. 15, then at J.E.B. Stuart the following week before returning home to face West Springfield on Sept. 29.