Car crash victim promotes safe driving at McLean High School assemblies
Jacy Good talks to students about the dangers of phone use while operating automobiles.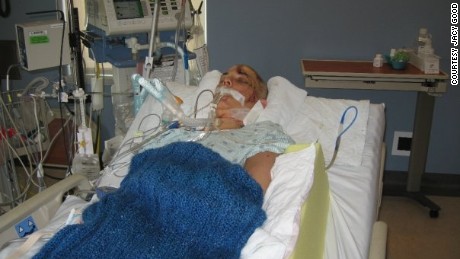 Rustin Abedi, Opinions Editor
April 9, 2017
Filed under News
Hang on for a minute...we're trying to find some more stories you might like.
Jacy Good's bright future was smothered by the dark cloud of a car accident that took the lives of her parents and left her hospitalized for many months. Now, as she moves on with her life with the help of her husband and remaining relatives, she hopes that her ordeal can prevent others from taking place, particularly among young drivers.
On a 90 minute drive to her family home from Muhlenberg College after her graduation, an 18 year old driver, distracted by a conversation with another person on speaker phone, ran a red light, forcing an eighteen wheeler to veer straight into the Good's vehicle. Now, Good is also on a mission that takes her across the nation in the hopes of convincing other teens not to commit the same mistakes that lead to her life being drastically different.
According to DoSomething.org,  56% of teens have stated they have talked on the phone while driving. The recent youth survey cited by Mr. Corsi during the distracted driving assemblies showed that 47% of teen drivers at McLean High School admitted to using their devices when behind the wheel, a shuddering prospect when taking into account the number of people who were not comfortable with admitting their wrongdoing.
Teen drivers have been contributing the most to fatal car accidents. Over 36 percent of deaths of individuals between the ages of 16 and 19 are attributed to car crashes, as research as the Centers of Disease Control shows. As a result, more students have become more self aware of the potential ramifications, citing Good's story and other tragedies that occur.
"
"There's a reason nobody can text and drive and we must respect that even if a cop isn't always there.""
— Chris Schram
"I think that teens just need to know the consequences of distracted driving and to know when to put [their] phones down," junior Chris Schram said.
Since her 2008 accident, Good and her husband Steve Johnson have visited high schools across the country with the hope of reaching more individuals and potentially saving more people from the rollercoaster ride they had to undergo. According to their website Hang Up and Drive, the couple has spoken at 742 events in 32 states since 2011.
Their travels have come with the promotion of banning cell phone use in automobiles, and those laws are present in other countries for all age levels. Currently, students are prohibited from using their cellular devices while driving, but it takes more than just legislation for progress on the issue. Good stressed the amount of power individuals behind the wheel have not only over the lives of people in other vehicles, but also the relatives of those souls.
"There's a reason nobody can text and drive and we must respect that even if a cop isn't always there," Schram said.