Anime Winter 2014 Post-Season Report Card
Drawing to a close with a finish as unremarkable as its entrance, the Anime Winter Season 2014 has produced a few salvageable titles. However, many out of the batch have churned out mediocre conclusions despite promising premises.
So far, Noragami, Tonari no Seki-kun, Hoozuki no Reitetsu, Hamatora the Animation, Space Dandy, and Pupa have finished airing, as well as Fall Season's leftovers, Kill la Kill and Magi: The Kingdom of Magic. The shows can be classified to either have stayed true to their nature and maintained their flow at best, or have trailed off to an underwhelming finish, and completed shows are graded with both a 10 point scale and A to F scale.
 Winter Season leftovers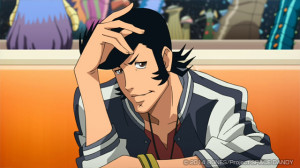 1. Space Dandy

Grade: C+ Episodes seen: 13 Final Verdict: 6/10
Space Dandy's episodic nature has its merits though seemingly more faults than advantages. Under the name of the famed director Watanabe Shinichiro, in reality, every episode is done by a different director and this is glaringly felt in the abruptly clashing styles of each episode which constitute it as seeming to be a large-scale experiment, especially noticeable in visuals and tremendously earning points in creativity though costing points in some sort of consistency in between. This may be a make-or-break point as gathering such prominent directors and animators may be seen as a feat in itself, however, it may also be seen on the other hand as simply an excuse to gather famed directors and animators.
Still, in hindsight, Space Dandy represented a glimmer of hope in the completed winter season. Announced to be a split-cour show with the second half airing in Summer 2014, perhaps it will bring something new to the table in the next cour or even surprise with actual continuity instead.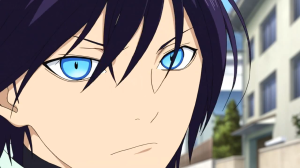 2. Noragami
Grade: B- Episodes seen: 12 Final Verdict: 7/10
Iki Hiyori, the female lead, has shone brightly this season particularly. Strong yet sympathetic and a believable character, Hiyori's role and personality itself serves as a base for Noragami and plays a large part in the show's enjoyability. However, the final arc introduces an anime-original character, another god of calamity Rabo. As an unoriginal anime-original character, the three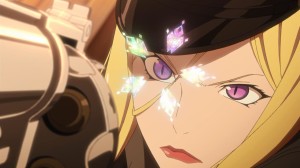 episode arc is predictable and closes off Noragami with a lukewarm finale as they make the heavy mistake of sidelining Hiyori during this, reducing her to an amnesiac and shadow of her former self and even deploy a deus ex machina ending in a clumsy way to tie up loose threads. While there were solidly short story arcs, the series on the whole did not quite have an over-arching plot, however, this did not lessen the subdued quality it displayed. In a show with character-driven plot and such vast potential throughout the cast, Noragami would do well to be allowed a second season.
3. Hoozuki no Reitetsu
Grade: A- Episodes seen: 13 Final Verdict: 8/10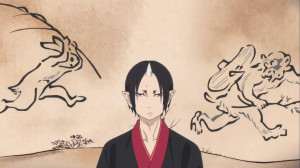 Consistently delivering every week, Hoozuki has been an intriguing ride. Filled to the brim with references, it also throws in comparatively obscure allusions to other anime or franchises such as Tonari no Kaibutsu-kun to name one, as well as the more well-known like Super Mario and Final Fantasy.
Hoozuki no Reitetsu may very well take the cake for most visually interesting or perhaps most intriguing setup. Unique and quirky characters and an equally quirky environment, Studio Wit has taken some notable steps in the creativity with this amusing and entertaining concept of mixing hell with a bureaucratic setting. The humor however, has its cons as much of it relies on references from rather nice tales of Japanese folklore, to video games, to other anime. This is a bit of a downside as not all the audience may fully catch the jokes, however, the series is enough to be a quality show even if every quip flies over your head.
4. Hamatora the Animation
Grade: C Episodes seen: 12 Final Verdict: 6/10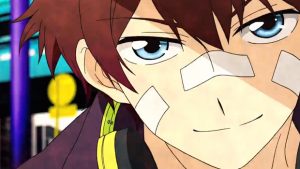 Hamatora essentially left character development hanging throughout these twelve episodes, only touching upon Inspector Art at all. While it maintained its sense of style, the cast of colorful yet unknown characters bogged down the enjoyment. Plot-wise, the villain Moral moved along briskly enough layering twists upon each other, however that wasn't enough to keep up the series as a whole. As we approached the ending, we were met with a slightly jarring change in tone with markedly increased violence and bloodshed in the chaos that ensued from Moral's scheming.  On the whole, the series had taken a liking to filler episodes and cliffhangers and couldn't resist leaving just one last cliffhanger at the very end. Dropping the second season message at the end, a grasp of character development and a cleared up storyline would do Hamatora no disservice in the next season.
5. Pupa
Grade: F Episodes seen: 9
While Pupa has been an atrocious watch, it brings up a rather unfortunate issue—lack of production budget resulting in a butchered show and a terrible adaptation. The material has been poorly presented, but that doesn't stop it from showing its thrown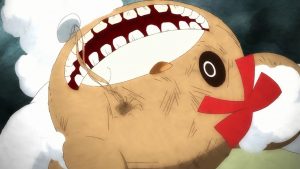 away potential, with some possibly creepy factors that could've come to full fruition under the wing of decent production values. However, the bare truth is that vital pillars to their story such as plot, characterization, etc. are all thrown out the window and we're left with what could have been but was instead butchered far worse than any cute imouto-turned-monster could do to her beloved brother.
6. Nobunagun
Grade: D- Episodes seen: 11
Unfortunately, Nobunagun has chosen to stoop to their lowest yet, pandering with straight-up H-scenes. This alone would pretty much justify dropping or not watching this series, as on the whole, there are no other redeeming factors whatsoever. For visuals, everything is strikingly dull and stereotypical, or plainly unappealing. The sound department does not fare much better, sporting a forgettable soundtrack with only the opening song (notably of heavy metal) which is a somewhat distinctive choice in comparison, however, still in the end it does not amount to much. The ending song is also of low quality to boot, sung by the main seiyuus (voice actors)—a crucial mistake as the main character's rookie seiyuu not only sounds like a robot when voice-acting, but also when singing.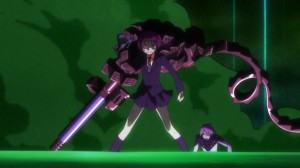 With the naming of interest-piquing historical figures such as the Count of Saint-Germaine or Eugène François Vidocq, the series delivers the characters in the most stereotypical and boring fashion, reducing the the Count to a dull and stuffy copy-pasted butler and Vidocq to the usual calculating so-called mastermind behind operations.
The last nail in this poorly presented and delivered coffin, is the blatant flop of shameless pandering. This dashes any expectations which were already low enough to begin with. Nothing more than distasteful, Nobunagun has failed poorly when given the benefit of the doubt.
7. Tonari no Seki-kun (currently still airing)

Grade: A+ Episodes seen: 15
Simply a charming delight, Tonari no Seki-kun has maintained a non-stop consistency filled with creative and entertaining possibilities that emerge from boredom during school in classrooms. Yokoi Rumi, the female lead, has been executed superbly as very nearly a one-man-show with her seiyuu (voice actor) Kana Hanazawa handling the job solidly as Seki-kun has few to no lines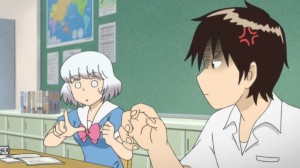 in every episode.  The episode's mini-plots also expand to beyond the desks in the classrooms and use earthquake drills as opportunities to continue their manifestations of classroom-daydreaming. Overall, the series is extremely endearing. The couple's chemistry is highly enjoyable to watch in all it's simplicity.
8. Nobunaga the Fool (currently still airing)

Grade: D Episodes seen: 15
Whether it's the silly foolery of Nobunaga's purple-hued manifestation of manliness, to Jeanne Kaguya D'arc's role made clear as fan-service lead, Hideyoshi degraded into mocked sidekick, or Himiko's obnoxious antics, Nobunaga the Fool's characters are all over the place at all intervals of the foolishness range. Jeanne's potential is an especially crucial point which the show, thus far, has failed to address with any amount of self-respect.
The mecha designs have been sub-par so far and too many silly incidents involving them have occurred, such as a scene in which Nobunaga rides into battle bravely, declares it to be a fine day for shooting, and proceeds to shoot down giant robots via bow and arrow with one hundred percent accuracy. Another can be seen where a regalia or magical item in the form of a pendant, is passed from Nobunaga to the mecha-encased Hideyoshi, via bow and arrow as it somehow manages to penetrate layers of steel and other armor to reach him. This also leads onto another blunder of many the show makes, depicting Nobunaga with an incredible amount of plot-armor, as conflicts are solved with his simply going "GARR!". The result is tension evaporating from the silliness of the battles.
However, the sole redeeming factor from the show's batch of laughable characters, is Mitsuhide and his betrayal plot. Taking into account the historical background, the original Nobunaga was betrayed by Mitsuhide and this leads to speculation as to what direction the characters will take. While he may be the only character with an amount of sense to some extent, Mitsuhide's plot ultimately is overpowered by the idiocy in the rest of the show.
9. Nisekoi (currently still airing)
Grade: D+ Episodes seen: 15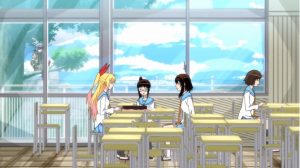 Nisekoi's romance has been deteriorating, playing out nearly every romance cliche in the textbook. SHAFT and Shinbo's visuals direction is simply a distraction at this point and don't add much to the entertainment factor. When it comes to the plot, they've already used up the stereotypical hot springs episode, and the romance is incredibly stale and frustrating as all harems usually are. As with most, the recent episodes have commenced the introduction of new love-interests for the main character, a stereotypically senseless simpleton, and the plot has done its best to over-complicate the situation like nearly all bad romances do. Especially harems. From a possibly tolerable but expectedly generic love-triangle, to a frustrating love-square or hexagon, Nisekoi is in the dumps now.
Fall Season leftovers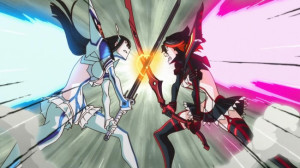 1. Kill la Kill
Grade: A+ Episodes seen: 24 Final Verdict: 9/10
Kill la Kill has been a wild ride, overflowing with clever and creative quirks. While the conclusion was a tad underwhelming, the thrill of the buildup and fun is undeniable. While the fan-service is one prominent criticism of the show, it can be seen as perhaps a parodying of fan-service itself through absurd amounts and actually desensitizing viewers instead. Regardless, by making the most out of their budget and delivering a hype-train, Kill la Kill simply has gone out in a blaze of hype and glory.
2. Magi: The Kingdom of Magic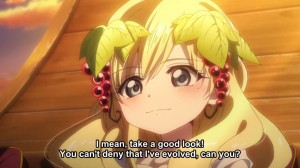 Grade: B+ Episodes seen: 25 Final Verdict: 7/10
Magi: The Kingdom of Magic delivered a satisfying end, tying together various plots across their fantasy world together and summing it up in one massive-scale battle.  Though indeed plagued with shounen tropes, it manages to remain a quality series nevertheless, with a distinct knack for world building. With a plot demonstrating a wealth of complexity and depth in weaving together the kingdoms, it has been a job well-done in the work done with character relations and plot coverage. With more back-story to be revealed, another season is greatly anticipated.