Palaces reigns supreme
On his long-awaited third album, Flume's sound becomes simultaneously catchier and more experimental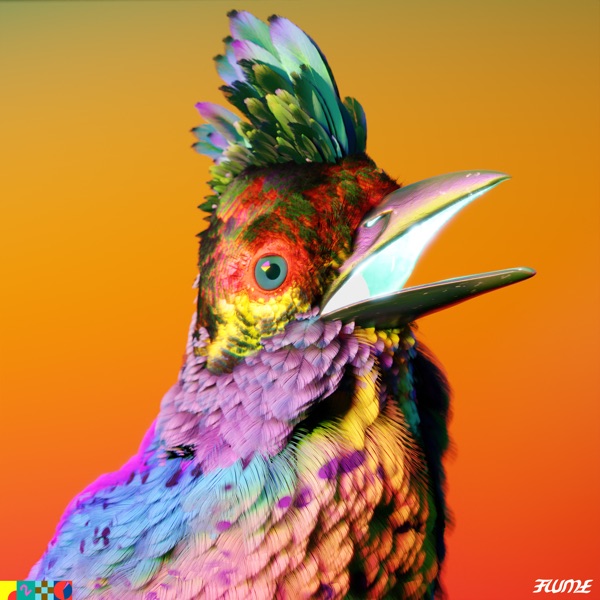 Harley Streten, who makes music under the name Flume, doesn't make obvious artistic decisions. Following two successful albums in 2012 and 2016, Flume and Skin, he redefined his image with a bizarre but brilliant 2019 mixtape titled Hi This Is Flume. Now he's back with his third studio album Palaces, with cover art featuring a digital but realistic rendering of a rainbow-colored bird.
It's an odd choice, but the listener just needs to have faith that it's the right one. The same holds true for the album itself. "Palaces" is unusual in its pacing, its songwriting, and its production. It's an immersive experience that won't give the listener what they expect, but will likely give them something they enjoy even more.
Some of the album's most exciting and moving moments are its quietest. The twelfth track on the record, titled "Go", is an upbeat yet reflective song, a laid-back drum and bass tune with heavily processed vocals and colorful synths. The album's fifth track, "I Can't Tell", offers an absolutely euphoric verse section, superimposing sensitive vocals from LA-based British singer-songwriter LAUREL over a perfectly simple bass line, followed by a brooding, hard-hitting drop with jittery granular textures and metallic drums.
Still, the album is by no means short of festival-ready bangers. Opening track "Highest Building" hearkens back to the sounds of sugary 2010s future bass while still pushing the envelope with unorthodox, organic sound design. Other tracks, such as "ESCAPE," and "Only Fans," carry the same energy and excitement.
One of the strongest parts of this record is the sound design. Flume takes a more understated approach to his blown-out signature sound. It maintains the lifelike quality of his past albums, but tames them slightly; if Flume's previous records sounded like a walk through a city street, "Palaces" sounds like a stroll through the woods. It's fitting, considering the album's nature-themed promotional materials.
The living qualities of the music also extends to the songwriting and the dynamic structure of the record as a whole. Electronic music songs often fit more naturally as singles than in album formats due to their cliched and superlative verse-buildup-drop structure. Too many tracks of nonstop energy don't allow an album to ebb and flow and tell a story. Palaces doesn't have this problem. It has fast tracks, slow tracks, quiet tracks, loud tracks, and everything in between, but they remain cohesive and unified through the common denominators of catchy pop and forward thinking electronic textures.
Even the album's lower moments have merit. The otherwise boring "Say Nothing" is held up by a dynamic vocal performance from feature MAY-A and some creative production garnishes. The too-slow "Sirens" featuring Caroline Polachek displays some very subtle and unusual granular synth sounds that make it worth the listener's while.
This record is a culmination of Flume's previous experiments in various genres. Skin explored the extremes of addictive upbeat electronic pop, and Hi This Is Flume did the same for abrasive left-field dance music.
On a scale of 1 to 10, Palaces is an 8.5. It subverts expectations but remains fun and easy to digest. When closing title track "Palaces" ends, the bird that's featured on the album's cover starts making more sense. Perhaps the best indicator of what to expect from "Palaces" is its cover art. It's enigmatic, it's beautiful and it's satisfying, while also being undramatic and a tad tongue-in-cheek. Sure, you've seen one of these before, but never one quite as graceful as this.
Listen to Palaces on SoundCloud:
Leave a Comment
Your donation supports the McLean High School's independent, award-winning news publication.