Soccer slides into season
Boys soccer team gets ready for victory on the field
Each day, the 27 players that make up the boys varsity soccer team take the field after school and get to work. They train in various ways, running drills, scrimmaging and doing yoga twice a week, building skills and chemistry that they hope will amount to a successful season and a deep playoff run.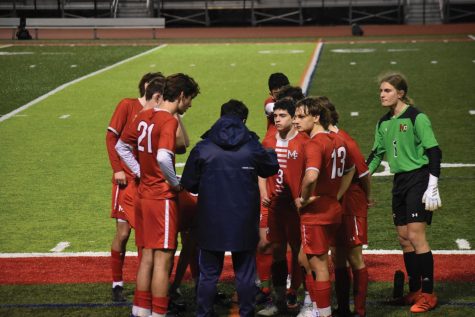 Of those 27 players, most of them are seniors or juniors, with only four underclassmen. The crew is led by head coach William Gaitan.
"We have a lot of attacking players, and I think that we really need to take advantage of that, so we should be seeing a lot of goals," Gaitan said. "We have a lot of depth in our attacking formation and our players."
In Gaitan's second year as head coach, the team looks to accomplish more than their regional semi-finals finish to the 2021 season. The players hope the new atmosphere combined with the familiar sense of Highlander spirit on the team will contribute to this goal.
"Last year there were a lot of seniors on the team, so this year's team will be a little bit more inexperienced than normal, but we should still have that same talent and passion that McLean soccer is accustomed to," said senior Will Mahoney, varsity center back and potential D1 commit.
After an undefeated preseason, the fit of the squad's skills and chemistry is promising.
"It's difficult to play high quality soccer with teammates that you don't play with very often, so if we can mesh and begin to work well as a team we should be able to have a successful season," Mahoney said.
Developing their style on the field and refining it will also be a key factor in how far the team can go.
"We need to improve our tactical awareness with one another. Obviously the season has just started and we are yet to play it out, but we need to establish a play style that works with everyone," said junior Gage Lyons, varsity striker and 3-star recruit.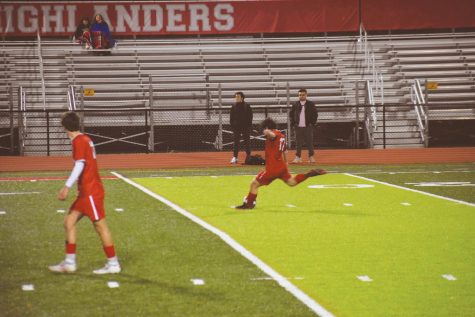 Communication is one area the team is focused on improving.
"We will have to train very hard every practice and communicate our own needs on the field. Team chemistry is good off the field, but now we need to develop it on the field as well," Lyons said.
Once the team gets in the right mindset, the pieces will begin to fall into place, and fans will get a good idea of how the season will unravel.
"The game plan is to score a lot of goals on offense," Gaitan said. "Last year, we had a lot of numbers in attendance, and that was great, so we want to entertain people with our soccer."
Seeming to have no missing parts on paper, the team will be put to the test. The results they produce as they enter the regular season will be an indicator of what they could accomplish in 2022.
"In high school everyone just wants to win, plain and simple, so we have to play for each other rather than ourselves," Lyons said.
Gaitan sees the importance of unity in helping the team reach their goals.
"We want to make sure that all the boys on the roster have each other's back in school, on the field and on the bench," Gaitan said.
With an undefeated preseason and a 2-1-3 record to start the regular season, Gaitan thinks they will be able to make strides once the peak of the season hits.
"This year we can win trophies and win regionals for sure," Gaitan said. "With the squad we have now, we should be winning districts and winning regionals for sure."
Leave a Comment
Your donation supports the McLean High School's independent, award-winning news publication.