Halloween show launches in art gallery
In the past weeks, members of the Art Honor Society have been assembling a brand new exhibition for McLean High School students.
Members of the Art Honor Society decided to dedicate their space for a new Halloween-themed art show, which launched today. "Halloween," as the show is called, will bring to light students', teachers' and staffs' creative pieces that follow a seasonal or spooky theme. Every Thursday, students gathered to organize the presentation, but the task was not easy.
"We get a lot of people to help us usually, it's fairly time consuming, taking from two hours to two hours and a half," senior Adilzahn Nazarov said.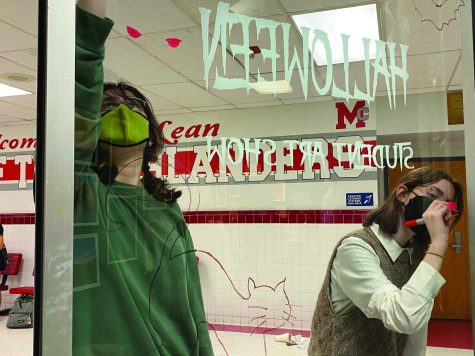 Art Honors Society members drew on the windows, stapled pictures, and hung spooky decorations. Cherry Lee, a junior who recently joined the Art Honor Society, illustrated her experience so far.
"I think this is a very great idea to have student's art works on display and a lot of people actually submit their artworks," Lee said. "Just now I saw the pile of paintings and photographs and it was really cool to see how students interpret Halloween."
Despite, as Lee noted, the managers organizing plans to assemble the showoff, not everyone has a given job. She feels that there's more people included in the project than needed.
"If the exhibition goes well, it obviously means they did great," Lee said.
Although submissions are closed for the Halloween special, you may turn in your artwork for the next exhibition through a Google Form linked in their Instagram profile (@mcleannahs) or personally give it to Ms. Elias in R195.
The art gallery is open, next to the silver hallway.
Leave a Comment
Your donation supports the McLean High School's independent, award-winning news publication.