Students celebrate FOCO
McLean students recreate homecoming
As the weather gets chillier and the first quarter comes to an end, students look forward to one of the most anticipated events of the school year: homecoming. The frenzy around planning, buying dresses, after parties, and everything else in between has not changed despite there being no school sponsored dance or football game due to COVID-19. However, that did not crush students' spirits as some took matters into their own hands and recreated a FOCO.
"My friends and I decided to recreate homecoming because it is a fun and memorable part of high school," junior Michaela Aka said.
Other students shared the same sentiments for having their own homecomings as sophomore Kate Gleason and her friends wanted to make the most of their year together.
"We wanted to recreate what we had before COVID happened to add something fun to do," Gleason said.
As for the event itself, different groups planned their day differently with some going to Washington D.C., a location known for taking homecoming pictures, and others at a house. Similarly, each group had busy schedules filled with fun, food, and entertainment.
"We went to D.C. at 6 to take pictures until 8:30 p.m., then got takeout food from Urban Plates, went over to one of our friends' houses, watched a movie, made some smores and then danced to some music with other friends who met up with us," Aka said.
Gleason and her friends had FOCO on an asynchronous work day where a part of the group met up at a friends house to finish up homework. The girls then got ready and waited for the rest of the group to arrive for pictures and pizza. However, another group's day did not start off as smoothly with a change in their plans as a result of the president being announced in D.C. that day.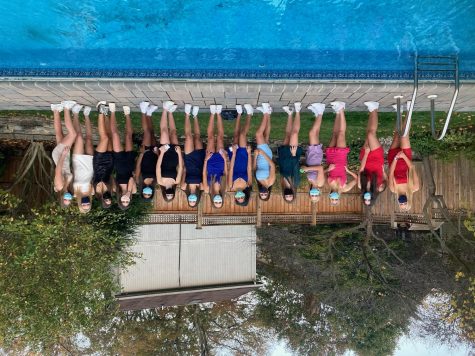 "Originally we were going to meet up in D.C. at 4 p.m. to take pictures with a photographer but it was really crowded so we had to skip that and go to our pre [party] at 5 p.m. to eat and take pictures," junior Elyse Lochmann said. "Then we went to our after [party] at 7 p.m., we watched college football and had a bonfire."
Homecoming normally causes a lot of students to stress over their time management and schedule but this year is different. Since there is no dance, groups are able to flexibly plan their evening and even with the excitement over dresses and preparations, all groups can agree that this time around FOCO was more relaxed than the previous homecomings."I loved how we were able to spend more time on certain parts of our plans. My group and I felt rushed to do everything we had planned our freshman and sophomore years, but since we didn't have that stress we were able to let loose a little more," Aka said.
Especially with the groups' eventful days, the possibility of getting COVID-19 arose in students. As cases begin rising in the fall, it is only natural that groups were worried and took necessary precautions.
"I definitely was afraid of COVID but I knew that the group of girls I was with take serious precautions and do not put themselves at risk nor do I," Aka said. "Being around other people did freak me out a little bit so I made sure to have my mask on, took pictures far away from others, and was distant from people I was not with."
There are risks of having a big group, however, one of them made sure to take preventative measures in order to ensure their safety and still have fun.
"Whenever you're with a big group of people you're going to be thinking about the risks of it," Gleason said. "We made sure people and their families were not having any symptoms and that no one was exposed."
Despite having an abnormal homecoming students believe it will be an unforgettable one.
"Homecoming this year was definitely memorable not only because of our circumstances but because we were all able to have fun together and make the best out of our situation," Lochmann said.