One woman inspires a wave of change
Dr. Reilly talks about the importance of learning ASL in today's world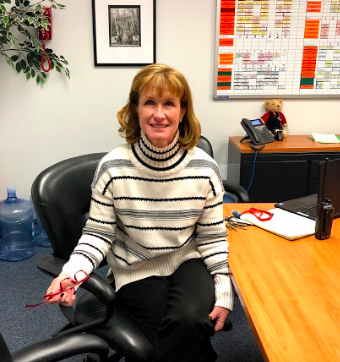 It is the first day of Ellen Reilly's lengthy teaching career. A new wave of students enters the room, eager to learn as much as they can about American Sign Language (ASL), the "silent language of the world." All she can think is, "Where in the world am I going to start [with this lesson]?"
Now, not only is Reilly the principal of McLean High School, but she also teaches an ASL class through the FCPS Online Campus. Through these classes, Reilly is able to familiarize a new generation of students with the beauty of ASL.
Reilly took her very first sign language class when she was a senior in college at North Carolina State University. It introduced her to a world full of possibilities.
"I moved back home, and I just started pursuing the language more and more," Reilly said.
She became an interpreter for ASL and was the liaison for interactions between deaf and non-deaf individuals. After seven years, a local high school contacted her, asking if she was interested in teaching ASL.
"I wanted a little bit of change," Reilly said. "So, I started teaching."
While teaching, Reilly faced difficulties combating those who did not believe in the validity of the language. She became very insecure about the quality of her teaching performance.
"Back then, people didn't really see sign language as a real language. It was definitely difficult to tell people that yes, it is a real language," Reilly said. "In fact, I was the only one teaching the language in my building. I had no one to talk to on how I could improve my teaching."
In addition, Reilly also struggled to accurately answer when students would ask questions, such as "Why is this sentence formatted with this grammatical structure?" or "How was this sign created?"
"I had to go do research. I had to go and find out why," Reilly said.
Despite her troubles, Reilly still maintained a positive mindset and constantly reminded herself why she was involved in ASL.
"For me, it was teaching others to care about people, understand people with disabilities, and be kind," Reilly said.
With her interactive teaching style, Reilly was able to make a significant impact on the lives of many students who wished to take the same path as her.
"Recently, one of my former students reached out to me. She's an interpreter for the Department of Defense and has done a lot for people who communicate through ASL," Reilly said. "Another one of my students has started her own business for audiology and is working with students who are hearing-impaired."
Reilly continues to make an impact on the future generation of ASL students, despite her busy schedule as the principal of McLean High School.
"I want to make sure that kids have the opportunity to take all the [ASL] classes here. My main goal is to continue providing lessons for students who want to learn and go as far as they can with this knowledge," Reilly said.
However, the pandemic has forced Reilly to move her ASL classroom to an online setting.
"There was [still] a need [for ASL classes] across the county, and a lot of kids wanted to take it," Reilly said. "I worked through the summer on getting the Online Campus classroom developed, and now I teach it on Thursday nights."
Despite the isolation from her students, she maintains a sense of normalcy and refuses to let the coronavirus wear down her passion for ASL.
"There are days when it's hard," Reilly said. "However, I know what my responsibilities are towards my students and my job."
Heather Bovaird, another ASL teacher who would frequently collaborate with Dr. Reilly, expressed her admiration for Reilly's expertise. Her dedication has continued to motivate Bovaird to be a better and more engaging teacher to her students.
"She has done [ASL] as an interpreter for seven years. So, of course, I want to be the best I can be in front of her. I want to learn to be as great as she is," Bovaird said.
Unfortunately, due to distance learning, Bovaird and Reilly have not had the opportunity to work together to formulate lesson plans for ASL. They still remain hopeful that the current situation is temporary.
"I'm sure [everything] will change once we are back in the building at some point," Bovaird said.
Not only does Reilly hope to raise awareness for people with disabilities through her classes, but she also hopes to reduce the stigma around individuals who suffer from physical impairments.
"Deaf people's motto is that they can do anything but hear," Reilly said, "I hope that people are able to see that everyone has good in them, and everyone has an ability."
Throughout her teaching journey, ASL has influenced Reilly's life in many ways. Not only has she fallen in love with the unique language, but she has also learned more about herself and the world around her.
"[ASL] has taught me patience. It has taught me to see the good in people. Most of all, it has taught me to preach kindness and compassion," Reilly said.
One day, Reilly wants to see a world where physically impaired people are able to freely interact with others without the fear of ridicule.
"Someone might have a learning disability, and someone might have a side issue, but you just don't know about their struggles. You just make an assumption about that person," Reilly said. "It would be great to get rid of these assumptions and just get to know each other."