Seniors wrap up early action applications
As many early action deadlines approach, seniors are finishing up their college applications while adapting to a virtual school year.
With the first quarter coming to a close, college application season is in full swing- along with  the annual scramble to apply on time. 2020 has been far from traditional, and this year's application process is no exception.
When COVID-19 locked everyone down in March, it disrupted much more than just school. Spring sports seasons were cut short, and many summer programs were cancelled or moved online. For many in the Class of 2021, this was extremely concerning. Rising seniors often rely on the summer after junior year to beef up the extracurricular section of their applications.
 "I had an internship that got cancelled [because of the virus] and I missed out on a ton of opportunities for me that would've given me a ton of experience," senior Anna Abelev said.
With the country in lockdown, most in-person college tours were also cancelled. 
"Many seniors were not able to visit college campuses in person to really get a sense of what they want," said McLean College and Career Specialist Laura Venos. My hope is that students are taking advantage of online tours and programs. While not the same, it's the next best thing to visiting in person."
Many students, especially those applying out of state or overseas, are appreciative of these virtual school tours because they give students the chance to explore institutions that are further away. 
"You can only really tour schools in a certain area. I had gone to a couple but not with the intention of going to tour schools, we just happened to drive through the area or something," Abelev said. "All of the schools I'm applying to are far away. That's like a whole trip… it's not like 'Lets go to Boston for a day.'"
Students have been  struggling with the effects of screen fatigue and a lack of motivation. For Abelev, the combination of this lack of motivation, a workload of APs, and college applications has had a detrimental effect on her education. She wants to study biomedical engineering, but is worried that she's not getting the most out of her preparation classes.
"I can't spend all the time that I want on those classes, because I'm so worried about college applications," Abelev said. "And I keep telling myself that by Nov. 15, I'll have pretty much everything in and then I can really focus on my schoolwork. Right now I'm just not focusing on it at all, I'm not learning anything."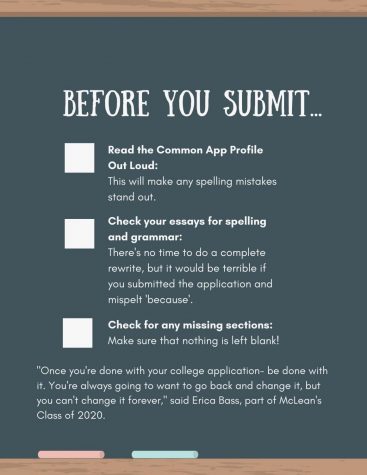 Mclean's College and Career Center offers help to any seniors struggling with or feeling overwhelmed by college applications. Last year, it worked with counselors to convert the annual in-school college application workshop series and the essay workshop into an online session. 
"[Seniors should] check their email every day, read the [Student Services] Newsletter, and keep up with the Seniors Google Classroom [for access to helpful resources]," Venos said.
Venos offers to read application essays and has edited nearly 90 personal statements and almost 100 supplemental essays. She encourages any seniors feeling lost with the application process to reach out to her for help. 
"You are not alone. I do recognize that there is a lot of stress on seniors right now, and that this situation is not normal," Venos said.
And for the Class of 2021, it's important to remember goals to stay motivated. 
Abelev's advice for future seniors: "Get it done early! Early as in over the summer! Decide the colleges you want to go to, tours, you need to talk to your recommenders early, get the transcript request forms in on time and don't try to do it during school. Do it as early as you can!"