Peer tutoring in a virtual world
McLean tutoring clubs offer resources for success in online school
Virtual learning has been a tough course for all to navigate, but it has hit students especially hard. In a digital setting, it is harder for students to ask questions and receive help. Many feel intimidated by the new classroom structure and try to avoid speaking up. But students need not fear because McLean offers many opportunities for peer tutoring, where students can seek help and guidance in a safe, judgement-free environment.
McMatics, which offers one-on-one math tutoring, is just one example of the many resources available to students.
"We meet Mondays from 11 a.m. to 1 p.m. via a [Blackboard Collaborate Ultra (BBCU)] link in the library Blackboard," McMatics co-presidents Eliana Durkee and Sanjna Kaul said in an interview conducted via email. "Students can drop in at any time and go to a breakout room labeled with the subject they want help in."
But tutoring help isn't just limited to the Monday sessions.The club also offers long-term tutoring for students who may need extra guidance.
"We have a Google form [students] can complete to be matched with an individual tutor that will help them over a few sessions or the whole semester," Durkee and Kaul said.
They recognize the struggles posed by virtual learning, and are trying to create a comfortable environment where students can address all of their math needs.
"Students are often expected to learn content on their own without any experience in the subject, and McMatics aims to provide help from someone with that experience," Durkee and Kaul said.
Junior Avery Barnett, one of the peer tutors, urges students to take advantage of the club, especially since McMatics has worked hard to establish a well-structured and productive space for its members. In fact, students will find the experience similar to one-on-one help with a teacher.
"In the online sessions, tutoring will usually involve going through practice problems, difficult problems from homework, and reviewing or explaining concepts," Barnett said.
She adds that, though virtual tutoring presents many challenges, the club has implemented new measures to keep things running smoothly. For example, tutors are expected to turn on their cameras and mics in order to create a more normal, relaxed environment for tutees.
"Virtual tutoring is more difficult than in-person tutoring, but there are ways to work around it," Barnett said. "The whiteboard and screen sharing features on BBCU are helpful when working through problems."
Separate from McMatics, there are many other tutoring centers at McLean. These include Chemnection, which offers students help with chemistry, and McLean Physics Tutoring, which provides students with physics help.
Similar to McMatics, McLean Physics Tutoring holds weekly sessions. Each Monday from 1-2 p.m., students can seek out help with all things physics.
"When a student joins the session, we ask what level of physics they are taking, and match them with a tutor who can help. The two go into a breakout room to work on the concepts the student needs help with," co-presidents Ian Forrer and Eliana Durkee said in an interview conducted via email.
The group aims to help students gain confidence in their physics skills, and focuses on providing them with the specific guidance they may be lacking in an online course.
"Physics classes revolve around labs where students can see the laws they're learning about take effect in real time," Forrer and Durkee said. "The Physics Tutoring Club is currently striving to help students understand concepts that are more difficult to learn without physical experiences."
And this year, the tutors are even better equipped to help struggling students.
"We offer [tutees] a chance to receive help from students who were very recently in their shoes," Forrer and Durkee said. "Many of the tutors finished their own physics courses online, and understand the issues that come with it."
Aside from the sciences, some of the most heavily impacted subjects are world languages. It is difficult to learn a new language under normal circumstances, much less while behind a screen. Without face-to-face interactions, learning the particulars of a foreign language is much more daunting, but the MHS Language Center promises to help students overcome these challenges.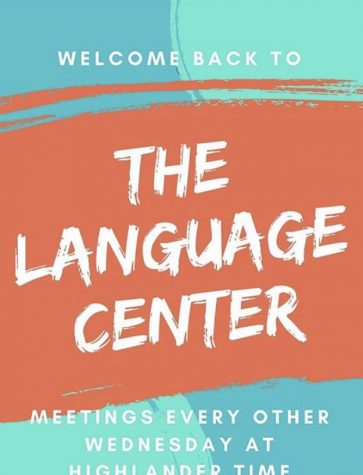 The group provides students with access to peer tutors who are fluent or near-fluent in a foreign language and can help teach them new languages or assist them with assignments.
"The overall goal of our club is not only to provide homework help for students who need it, it's also to create a sense of community and unity among the students at McLean," said co-founder Phoebe Li.
Li acknowledges the challenges of learning digitally.
"It's less convenient to ask for help online. Our club aims to help by connecting with students virtually and providing the assistance required," Li said.
The Language Center plans on further adapting its tutoring process to better suit a virtual environment.
"We're planning on creating breakout rooms so students can receive one-on-one tutoring," Li said.
The club meets at 3 p.m. every other Wednesday, and students can follow the group on Instagram (@mhs.languagecenter) for more information and ways to reach out for help.
This has been a tough year for everyone, and it isn't over yet. But there are many opportunities for McLean students to receive help. Not only is peer-tutoring efficient and easily accessible, but it can also offer students support in what is clearly an unfavorable and inconvenient situation.
"Virtual learning can be stressful and overwhelming, so meeting with peer tutors can help alleviate some of that stress," Barnett said. "Overall, peer tutoring is a great opportunity for both tutors and tutees. Tutors can build both their understanding of the subject and their communication skills, and tutees can get support that can help them do better in their class and enjoy school more."