Raya becomes Disney's next warrior princess
Disney releases the much-anticipated "Raya and the Last Dragon" trailer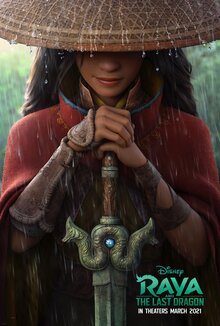 "Thrilling" is the best way to describe Disney's trailer for its upcoming movie,"Raya and the Last Dragon." On Oct. 21, the company released a sneak peek of the excitement that would come next March in the form of a plucky girl named Raya and her armadillo, Tuk Tuk.  
The movie has been in the works since 2018, with Disney constantly reworking the script and hiring new directors and actors to ensure the maximum quality of the film. Their efforts have now culminated into a promising two-minute-long trailer filled with action, drama, and humor. 
"Raya and the Last Dragon" begins with an introduction of an adolescent Raya to the rousing sound of traditional Southeast Asian music. With her impressive agility and assertiveness, it is clear that Disney has created a princess that is a force to be reckoned with who strives to fulfill her destiny and make her people proud. As the trailer progresses, this intrepid warrior princess is seen deftly dodging obstacles and expertly battling a mysterious masked man.
Eventually, as Raya is seen going on one daunting adventure after another, her goal is revealed: she intends to find the famed "last dragon" to restore balance in her native land, Kumandra. No matter what obstacles deter her, her grit and determination drive her to continue  until everyone knows her name.
Despite the long wait, reactions to the trailer have been mixed. While many have been appreciative of Disney's attempts towards promoting cultural diversity, others have complained about the plot's lack of originality. 
"'To restore peace, I must find the last dragon…' Yeah, [I] haven't heard that before…" one Youtube user wrote sarcastically. 
Some viewers have even gone as far as to compare Raya to Korra, the titular protagonist of the popular Nickelodeon show, "The Legend of Korra."
I'm not the only one getting Korra vibes from Raya in the #RayaAndTheLastDragon trailer, right? pic.twitter.com/qgjPQkMb6O

— Kassy: Blood of Zeus Spoilers (@jedi_storms) October 21, 2020
In spite of the negative reception, many fans have been vocal about their excitement for the upcoming release.
"This looks epic," one Twitter user said. "I cannot wait to see it!" 
What makes "Raya and the Last Dragon" so different from Disney's previous films is its emphasis on Southeast Asian (SEA) culture, a first for the entertainment company that made its name from its constant depictions of European characters and culture.
"[The movie] will be inspired by the beautiful and diverse cultures of Southeast Asia and explore themes of community and hope," Disney said.
Many viewers have also enthusiastically identified moments in the trailer that paid homage to those SEA countries. 
"Raya is using Arnis sticks and knows Arnis!" another Twitter user said. 
Actress Kelly Marie Tran, the voice actress of Raya and a woman of Southeast Asian descent, has also expressed her happiness with the representation in the movie.
"I remember having this experience of recognizing some of the words and recognizing some of the names and the locations and even certain characters and our job descriptions of what influenced them to be a certain way," Tran told EW. "I felt so seen, and it was such a blissful feeling."
"Raya and the Last Dragon" has not been Disney's first attempt at being more inclusive. In fact, with the likes of Disney Pixar's "Coco" and Disney's "Moana", both of which have been praised for their authentic portrayals of various cultures, "Raya and the Last Dragon" has a long way to go before it is celebrated like its predecessors. 
"I just hope [Disney doesn't] pull a Mulan," said junior Kevin Fan, referencing the lackluster performance of the live-action "Mulan," which was widely criticized for its misrepresentation of Chinese culture.
Disney's release of the "Raya and the Last Dragon" trailer is a sign of the change that is to come for minorities around the world. It encourages children of color to realize that there is someone out there who is similar to them and can still be heralded as a hero. 
Step aside, Cinderella. There's a new princess in town, and her name is Raya.