Future's High Off Life
Future drops 8th studio album amidst quarantine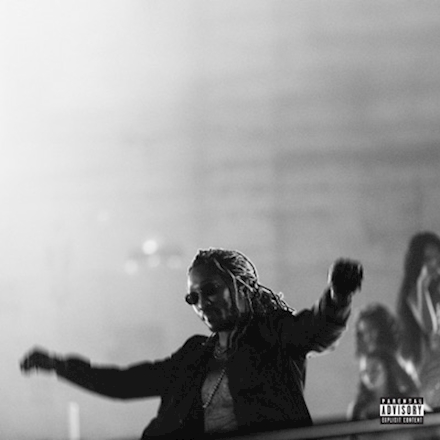 Future is a veteran in the rap game, and anything he drops is guaranteed to do numbers. His new album "High Off Life" (released May 15) explores his story of broken relationships, riches, drugs, and his rise to the top from nothing. Off the top, the album seems promising with big names like Young Thug, Travis Scott, Lil Uzi Vert, and YoungBoy Never Broke Again being featured. 
The album is lengthy to say the least, with 21 tracks. Sifting through songs to find the bangers, I have compiled a review of each song on the album from the perspective of a 1st time listen marathon of the album in order.
Trapped in the sun– A bouncy, catchy start to the album. At first, it has the potential to be great with the hook being easy on the ears, but the repetitiveness starts to become boring about halfway through the song. The lyrics are centered around all the supercars that Future owns, and talk about yellow lambos gets old quickly.
HiTek Tek-  A step in the right direction, the ATL Jacobs produced track is chaotic with Future repeating "HiTek Tek" throughout the song. The song has high energy and would be a good song for the gym, but lacks lyrical complexity to ultimately let it slip through the cracks of this massive album.
Touch The Sky– Future boasts about all the wealth he has accumulated from his ferrari to cotton candy diamonds. "In the penthouse in my room, touch the sky" He reminds us that he only wears the latest designer through lyrics like, "Buy Jimmy Choo sandals cause i'm rich" Not the best song, but more like a reminder that he is richer than you will ever be. 
Solitaires (feat. Travis Scott)– Only four songs in, and we have a potential number one hit. Great feature from Travis, who has been putting out nothing but heat lately. Future goes well with Travis, and Future even goes up an octave on a verse, a nice change from his deep rap in his usual sound. I was hooked in by Travis at the beginning, and stayed for Travis. Definitively the best song so far, and this sets up better to come.
Ridin Strikers– Nice flow, good rhymes. More talk about Jimmy Choo, a staple in a Future album. I like his flow here. Right when the novelty of the song starts to fade right in the middle, the beat switches up, and a news snippet plays about a bank robber. Okay song. 1st part is better, might revisit later. 
One of My– The album takes a dark turn as he raps about his friends who have gotten rich from trapping. "One of my… got rich selling crack." He lists off how each of his friends got rich off of many different things from crack and cocaine to h*es. Ghost story vibes are emulated through his deep voice and the staccato beat which puts you on edge.
Posted with Demons- Further talk about his past life of trapping, "All this dope I sold." He has a dark past and he tells part of it here, "I can never forget when I was starving, that s*** make me sick." He tells a sad story over a beat filled with despair. He's one of the rappers who truly experienced hard times, and when he raps about it, he speaks the truth.
Hard to Choose One– Trap Future resurfaces again, showing his face as a super-villain. He raps about his come up from nothing, "

Made it off the streets, I came up from a crumb." However, now that he is on top, he finds it hard to choose one partner to be with. 



Trillionaire (feat. Youngboy Never Broke Again)– In a welcome surprise, both rappers are actually singing on this track. A song about starting from nothing to becoming so rich you feel like a trillionaire is motivational and inspires emotion. "Surrounded by some millionaires, and I know I'm gonna be one when I walk off. Feel like I can be a trillionaire. Yeah, I'm gonna be the one they talk about," says Youngboy. Nice upbeat change from the trap.
Harlem Shake (feat. Young Thug)– "Choppa make em do the Harlem Shake," Thugger didn't go off like I expected him to. His verse was cut short, and he didn't offer too much to digest. Future feels lazy on this one. I was expecting much bigger, but I was let down. Skip.
Up the River– Future uncharacteristically raps about his feelings. "Make a billion like Kylie" shows a cool reference to the makeup mogul. I like the beat with the background notes and synths. Would revisit for sure.
Pray For a Key– One of the better songs. He fluctuates his voice more than usual, and it sounds good, offering a change from his usual raspy notes. It has more emotion in his voice as well, allowing the listener to get into the lyrics deeper. But why would you pray for a key of all things? Definitely would play again.
Too Comfortable– "Better not get to comfortable, b**** don't get too comfortable." Future shows his exasperation at all the women in his life in a warning that he could swap them out at any moment. However, this track isn't "too comfortable" on the ears, and could have been left out of this extensive project. 
All Bad (feat. Lil Uzi Vert)– YES! Its an unexpected surprise to see Uzi on this album, his cartoonish style proving the only thing needed to provide a spark of light amidst this dark and at times brooding album. Produced by Brandon Finessin,who also produced Eternal Atake, the beat gives off the quintessential Lil Uzi vibe, similar to video game music. Their sound goes great together as well, with Future mimicking Uzi's style at times with hysterical one-liners, "

You chase the nut like a squirrel." Combined together, it results in an instant hit, my favorite on the album by far.

Outer Space Bih– The simple beat of piano keys combined with electronic sounds in the background prove to be intoxicating, highlighting the excellent production on this album. I imagine I would listen to the instrumental by itself. The simple but fun lyrics make a more lighthearted track, with erratic smatterings of "Outer Space Bih" sprinkled in for good measure.
Accepting My Flaws– Woah. A stark contrast from the previous song, audio of someone ranting commences track 16. Then future hops on the beat, and the whole aura changes. He raps about his love Lori Harvey, and how she accepts him for who he is, scars and all. "Give me glory give me Lori, that's victory. I'm gonna drop your name, is it chemistry?" He talks about his battle with inner turmoil and substance abuse in a rare heartfelt moment from the stoic artist. "I've been trying to fight my demons, I've been trying to fight my cup, I always tell her she's my therapy, I told her it was rough, She acceptin' all my flaws, I got diamonds with the cut."
Life is Good (feat. Drake)– Lyrically, one of the best on the album. Wouldn't expect any less from a Drake feature. Future catches the beat change superbly, and he is the most alive and sprightly that he has been so far. Strangely, life isn't so good for many people right now, though. "

I go tremendo for new fettuccini/All fact though, clarity pinky," Future raps about Italian pasta, making for the best bar on the song.

Last Name (feat. Lil Durk)– This album is starting to get long…. good song though, in which Future and Durkio show their melodic side, with verses about pain and being too paranoid to sleep. "Numb to the pain, so I keep a smile." A sad song from Future. The mask of being a super villain fades for a bit, even just for three and a half minutes.
Tycoon– Future talks about his come up from the streets to become a "Tycoon" in the music industry. More talk about his pain and paranoia ensues. Hopefully he will find peace one day. Don't let this distract you from the fact that this album is longer than the line for toilet paper at any supermarket.
100 Shooters (feat. Meek Mill & Doe Boy)– Nice to hear Meek, he hasn't been too active on the music seen as of late. Definitely would have hit harder earlier on in the album. The features didn't disappoint, placing this in the top 5 or so on this album. Would fit in perfectly on any gym playlist.
Life is Good (feat. Drake, DaBaby & Lil Baby)- Remix – Future's new verses don't go as crazy as the original, but they are still decent nonetheless. Drake was absent on this remix, why is he in the title? DaBaby & Lil Baby couldn't replace Drake, but they did pretty well. In the end, I would rather listen to the original.
Go watch my convo with @zanelowe about my new album #HighOffLife on @applemusic now https://t.co/bIy8pXKYGY pic.twitter.com/sDFLdBRn0z

— FUTURE/FREEBANDZ (@1future) May 15, 2020

Final thoughts on the 1st listen through: Future takes us through a roller coaster of emotions in this latest project, with songs ranging in subject from trapping to buying the latest Jimmy Choo sandals. Sometimes he puts on the facade of being a hardhearted, untouchable monolith with a dark past, and other times he opens up about the pain that he feels and how he has trouble sleeping at night. The features did well to boost the album, and I would for sure revisit several tracks in the future.