FCPS planning for pandemic
FCPS joins long list of schools forced to alter schedules due to the virus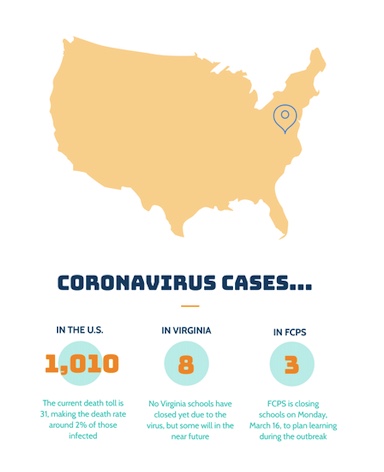 The time has come. After weeks of worldwide panic, Fairfax County has announced its first official school day off for the infamous coronavirus (COVID-19). This comes after a spike in cases in the DMV area, the latest coming from a church in Washington D.C. that resulted in the closing of Georgetown Day School. With 22 cases now reported in the D.C. Metropolitan Area and eight in Virginia alone, schools have begun to take drastic measures to combat the pandemic.
FCPS, Virginia's most populated county, kicked it off, announcing Tuesday afternoon that they will be closing the following Monday in order to prepare for a possible longer break should the virus spread more. 
From Harvard to UCLA, colleges across America have begun the transition to online classes to decrease the risk of transmitting the virus. Many counties have begun to echo these changes. Beginning in Seattle and spreading to the East Coast in just days, school districts have shifted to online classes to attempt to contain the outbreak.
FCPS is expected to join these schools, with a teacher workday on Monday to help prepare teachers for the inevitable; a more severe outbreak in the county that will likely close schools for weeks. Teachers and other staff members will use this day to be trained on long-distance learning, as stated by Superintendent Scott Braband in a statement released Tuesday.
Monday, March 16, will be designated as a staff development day/student holiday, in order to provide an opportunity for staff to prepare for the possibility of distance learning in the event of a school(s) closure.
More details to follow.

— Fairfax Schools (@fcpsnews) March 10, 2020
With over 1,000 confirmed cases and 31 deaths, an alarming 12 states have already declared a 'State of Emergency' regarding the virus as corona reaches its eight consecutive day with more cases diagnosed than the previous.
The Highlander Staff will continue to update this article as further developments become available.
Last updated:  Wednesday, March 11. 1:30 A.M.